Joy Villa makes headlines wearing an anti-abortion dress at the 2018 Grammys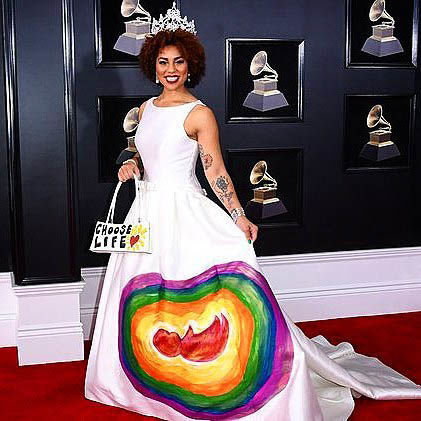 Saarim Damani
February 5, 2018
Hang on for a minute...we're trying to find some more stories you might like.
The 60th annual Grammy awards ceremony took place in New York for the first time in 15 years. Many celebrities took this as an opportunity to promote trending movements such as #Me Too and #Times Up, but one singer and songwriter, Joy Villa, took The Grammys red carpet to a whole new level.
Joy Villa made fashion headlines when she appeared on the red carpet wearing a white wedding dress with a self-painted, red colored fetus inside a rainbow uterus followed by a matching white purse that read "choose life." This anti-abortion dress is just one of her controversial dresses; Villa's first dress that created a stir on the 2015 Grammy Awards red carpet was made entirely from orange construction material. In 2017, she created an enormous social media buzz when she sported a pro-Trump dress which read "Make America Great Again."
Villa told Fox News, "I'm a pro-life woman, and this year I chose to make a statement on the red carpet like I always do. I'm all about life." She also said that she adapted the illustration from the paintings she made when she was expecting a child in 2007, which was adopted by a loving family. Furthermore, Villa says she supports adoption over abortion and her choice to wear this dress is by no means to hate on those who are not anti-abortionist rather, it simply makes a statement that she supports 'life.'
Abortion has always been a hotly debated and contested topic. I believe that a women understands what decision is the right decision for her when it comes to taking such a crucial step. Her choice should be valued and respected either way, whether or not she decides to abort her pregnancy. It is important to support life, but it is also important to break the myths and deep seated stereotypes about abortion.
According to Doctor Nancy Stanwood, an associate professor of obstetrics and gynecology at Yale School of Medicine, every women deserves to make a choice for herself. "I've also taken care of patients who said they were always pro-life," she explains, "but something happened that made them feel like abortion was the right thing for them." Hence, abortion is a very personal decision and no one has a right to coerce a women into abortion or giving birth. Rather, it should be a well thought out decision after taking into consideration all pros and cons.
Joy Villa's statement has given her both hatred and love on social media, especially after her pro-Trump dress. Her anti-abortion dress has added fuel to the fire, resulting in some burning tweets. All in all, I think it is acceptable to not choose a side between abortion and anti-abortion, rather, to stay flexible because decisions depend on different contexts. However, it is better to be pro-choice than pro-life because in the end we all have to stand in support and out of love for each other.