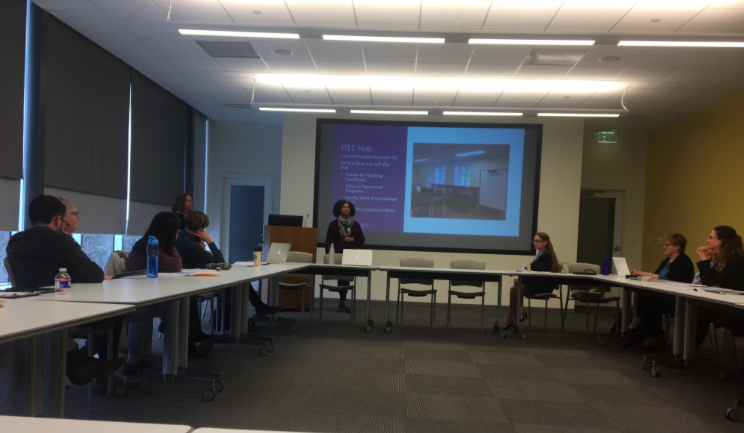 The faculty senate is looking ahead towards changes in the orientation and curriculum of incoming students.
During a meeting on Jan. 26, graphic design professor Kimberly Garza presented the quality enhancement plan and english professor Mary Rist discussed general education requirements that are currently undergoing revision.
"This plan has been talked about as only faculty can talk about plans over and over again," Rist said. "The new curriculum involves lots more faculty in lots of different ways because the courses are now being prefixed within the departments."
There will also be a shift in General Education Advisory Committee (GEAC) to become GEOC. "Right now, the GOAC can just make suggestions and nobody has to listen to us. We want it to be an oversight council."
Rist recommended that before deciding whether or not to endorse the curriculum, the senate should consider "that we really have a faculty voice in general education going forward." However, she reminded the senate that "it is an administrative structure that pulls gen ed."
"And if we're looking at how well our curriculum is serving our students, who's doing that? Who gets to weigh in on those discussions?" The senate can say, 'if you could tweak this?,' you can offer suggestions, you can offer notes, we can agree on a plan and send it forward… but it's not just ours to change."
The effectiveness of course changes is commonly measured through assessments, and a plan for such has not been established yet. Rist mentioned that it could potentially involve assessing one part of the curriculum each year.
Rist added that there needs to be "skeletal plans in place for the fall of the first year, but we have to show continuous improvement from there."
The quality enhancement plan (QEP), meanwhile, has been shaped through focus groups last May involving student and faculty to replace the most recent one that focuses on vocation.
A QEP is completed so that the university can maintain regional accreditation by the Southern Association of Colleges and Schools Commission on Colleges.  
Accepted in December, the new QEP aims "to engage students in an intentional program of career exploration, preparation and experience to support the evolution of their professional lives."
As part of the plan, students will take a personality test prior to orientation. Known as MyPlan, the test shares similarities to Myers-Briggs and is commonly used by the Office of Career and Professional Development.
"This is something students really gravitated towards and wanted," Garza said. "They (students) said, 'I want that self-exploration early on to help me decide who am I and what do I want to do?"
The plan is designed so that students ultimately go on to participate in internships, service, and faculty-led research projects.