Ourview: Roy Moore allegations receive delayed, divided response from Republicans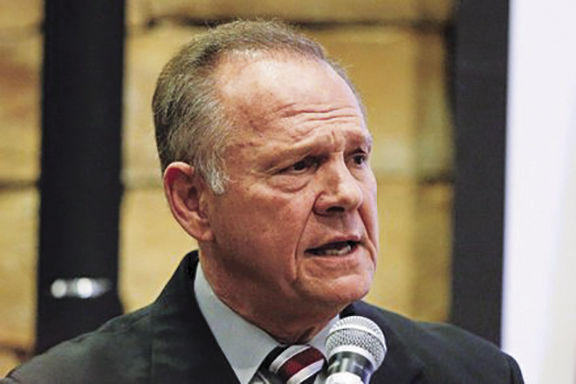 Hang on for a minute...we're trying to find some more stories you might like.
Each week the editorial board reflects on a current issue in Our View. The position taken does not reflect the opinions of everyone on the Hilltop Views staff. This week's editorial board is composed of Viewpoints editors Kenny Phipps and Lauren Sanchez.
There appears to be no limit to the extent to which Republicans will support each other against Democrats. During the 2016 election campaign, they supported then-candidate Donald Trump, a man accused by multiple women of sexual harassment and even caught on tape claiming to have assaulted women. Now, they are yet again standing by one of their own despite allegations of pedophilia. 
That isn't a euphemism, either. Roy Moore, the Republican candidate for Alabama's senate seat, has been accused of harassing underage girls and molesting one, whose account of the incidents was published in The Washington Post.
The allegations themselves are disturbing and disgusting, couple that with the fact that so many other Republicans are speaking up in Moore's defense? Downright horrific.  
One politician, the Alabama state auditor and Republican Jim Ziegler, acknowledged the truth of these allegations and sought to defend Moore in a strikingly weird way: using the Bible.
"Take Joseph and Mary. Mary was a teenager and Joseph was an adult carpenter. They became parents of Jesus. There's just nothing immoral or illegal here. Maybe just a little bit unusual," said Ziegler.
What?! First of all, we're no longer living in biblical times, so just jot that down. Second of all, just because it wasn't illegal back then doesn't mean it's not illegal now.
In reality, these statements from Ziegler, while still phenomenally strange, represent some of the more genuine responses to the allegations against Moore. Many, including the office of the Vice President, issued statements along the lines of "If true," these are troubling accusations that would disqualify anyone from serving in office. Yet, he still hasn't been barred from running for senate.
A helpful comparison here might stem from the Anthony Weiner scandal of a few years ago. When word of Weiner's sexual harassment began to spread, he resigned from Congress, pled guilty to sending inappropriate material to a minor and is sentenced to serve up to 21 months in prison.
Even more importantly for our illustration, Democrats actively demanded his resignation and continue to disavow him and his actions. When something similar happens to a Republican, no such decency is shown. Except, of course, from John McCain, who almost immediately called for Moore to drop out of the Senate race.
Mitt Romney has also taken the time to speak out about the situation and reprimand Moore for these allegations. Romney tweeted "Innocent until proven guilty is for criminal convictions, not elections. I believe Leigh Corfman. Her account is too serious to ignore. Moore is unfit for office and should step aside."
What's so important about this and McCain's statements is the rhetoric they use; neither of them say "if these allegations are true." The word "if" itself is indicative of how other Republicans are discrediting the victim's story, and it is important that McCain and Romney were willing to speak out against a member of their own party. Some Senators, such as Mitch McConnell and John Cornyn of Texas, issues delayed condemnations.
However, two righteous voices in the wilderness are simply not enough to make up for the cowardly reactions of most Republicans. Roy Moore's conduct is horrendous and certainly disqualifies him from serving in public office. It's time more Republicans decided that what is right is more important than who is Republican.