Texas Book Festival cultivates readership of social issues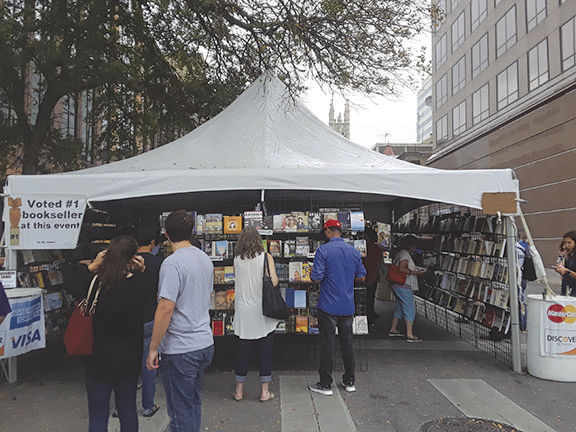 @bleakshriek
November 8, 2017
Hang on for a minute...we're trying to find some more stories you might like.
The annual Texas Book Festival–a nationally acclaimed leading literary event–took place in downtown Austin with critically extolled authors such as Daniel Handler, Elizabeth Crane, Anne Helen Peterson and many more.
The Texas Book Festival is a year-round nonprofit that dedicates itself to gathering donations that contribute to agendas via the Rock Stars program, which funds literacy programs at local low income schools, and decided recently to raise donations for libraries affected by Hurricane Harvey.  
One of the many activities available at the event was book shopping through BookPeople, a local independent bookstore raved as number one in Austin. These tents were spread sporadically, one of which was held at the intersection of 10th St. and Congress Avenue.
More than 80 food trucks, including Amy's Ice Creams, Ropollo's Pizza and the Mighty Cone, made appearances as admired local food distributors.
More guests of the event included publications such as ⁱAhora Si!, a Spanish weekly newspaper that works in accordance with the Austin-American Statesman. ⁱAhora Si! held a tent this past weekend with TBF in order to promote bilingual authors. For their event, they held a panel of Latinx writers and paid homage to their work and contributions toward continuing the Latinx conversation.
The festival continued to anchor discussions with authors who this year recently issued new written work.These scheduled discussions allowed authors to confer the literary intent behind their creations, their intended audiences, inspirations as storytellers and the reasoning behind their choice of genre. Various genres were honored in these discussions as panels were held for short fiction writers, novelists, poets and journalists.  
Amongst the scheduled events, the panel in the Capitol Extension Room with authors Carina Chocano, Anne Helen Petersen and moderator Summer Anne Burton was amid the more reverberating. In reviewing their work, "You Play the Girl" by Chocano and "Too Fat, Too Slutty, Too Loud" by Petersen, respectively, the two women shared how pop culture mediates desired behavioral tendencies and beliefs onto women's identities.
"Women are often discredited in show business when they're associated to the 'Train-wreck female'. They're deemed insane and that's how the patriarchy works in Hollywood," Chocano said.
Chocano and Petersen were not the only ones to tackle grim social issues. Daniel Handler, author of "A Series of Unfortunate Events", and Sarah Hepola, author of "Blackout: Remembering All the Things I Drank to Forget" discussed his new novel, "All the Dirty Parts". The novel confronts the lack of dialogue concerning sexuality in youth.  
Handler argued that sexual liberation is often closely linked to sexual violence when developing libidos. Hepola supported his argument and extended it to mention the gender roles college students abide to when having sex. Together, they analyzed the current rhetoric on sex and the effect technology has had on conveying sexual intentions. Handler's visit was among one of the more popular panels, as a line of anxious admirers formed outside of the discussion room.
The Texas Book Festival contributes to larger issues by accumulating donations and also addresses one of the largest concerns writers face today: cultivating unity among the literary community. The event hosts a union of readership that links bookworms together in hopes of honoring discussion among writers alike.