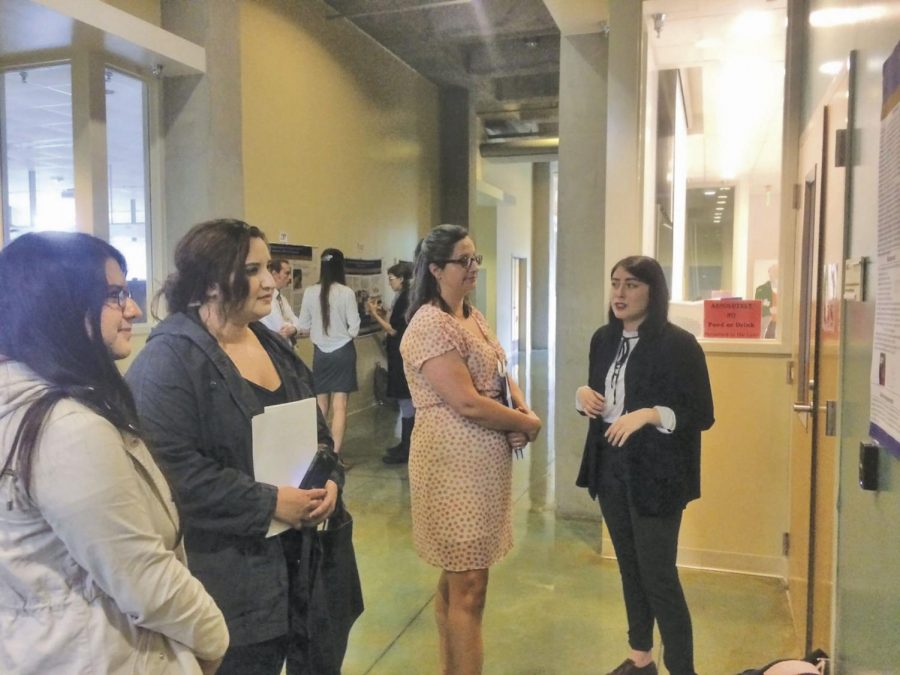 St. Edward's students presented their summer research findings at the annual Student Research Poster session on Sept. 29. The poster session followed the Brother Lucian Blersch Symposium which included presentations from guest speakers focusing on this year's theme, Computational Connections: Modeling Materials, Molecules & More.
Wrenell Ilustre, sophomore Biochemistry major, and Maria Jose Cardenas, sophomore Biology major, participated in a research project in which they created a new model to study the function relationship of an enzyme containing metal, also known as a metalloenzyme.
Their research focused on a particular metalloenzyme called Nickel Acireductone Dioxygenase, Ni-ARD for short. According to Cardenas and Ilustre's abstract, Ni-ARD has recently been linked to diseases such as hepatitis C, prostate cancer and gastric carcinoma.
Ulster and Cardenas could not believe their findings Cardenas shared the story of when they first received their results.
"When we received [the results] we sent them back to the lab and told them something was wrong," said Cardenas about their accidental discovery. "They returned it and said 'No, this is right.'"
Ilustre and Cardenas hope to have their research published in academic magazines and are already planning to present it on a bigger scale outside of the university community.
Forty-one students presented their posters with information on the research they did with St. Edward's over the summer. Subjects varied from mathematics, biochemistry, biology, forensic science and neuroscience.
Each year students are encouraged to apply for summer research opportunities where they can either join a professor's existing project or pitch their own experiment idea.
"It is always exciting to see how science applies," Tricia Shepherd, chemistry professor and department chair, said.
Every year during the Fall semester, the School of Natural Sciences hosts the symposium as well as the poster presentation to cover different topics of science through the guest speakers as well as the students' findings.
"It is exposing them to a broader subject [of science]," Shepherd said.
Attendees could walk around the John Brooks Williams Natural Science Center where students stood next to their posters ready to share their projects with the community.
Junior Forensic Science major Guadalupe Aguilar presented one of the two studies conducted on polymer banknotes over the summer.
"This is the first of this kind of research done in the U.S. since we do not use polymer money," Aguilar said.
The experiment focused on uncovering fingerprints on polymer currency and was successful in doing so. Aguilar tested her research on the Mexican peso.
"This is important research because both of our neighboring countries use polymer banknotes, so they can possibly be found at a crime scene here," Aguilar said. "Our next step would be to test on older bills with older fingerprints."