Activists rally at capitol to help raise awareness about mental health issues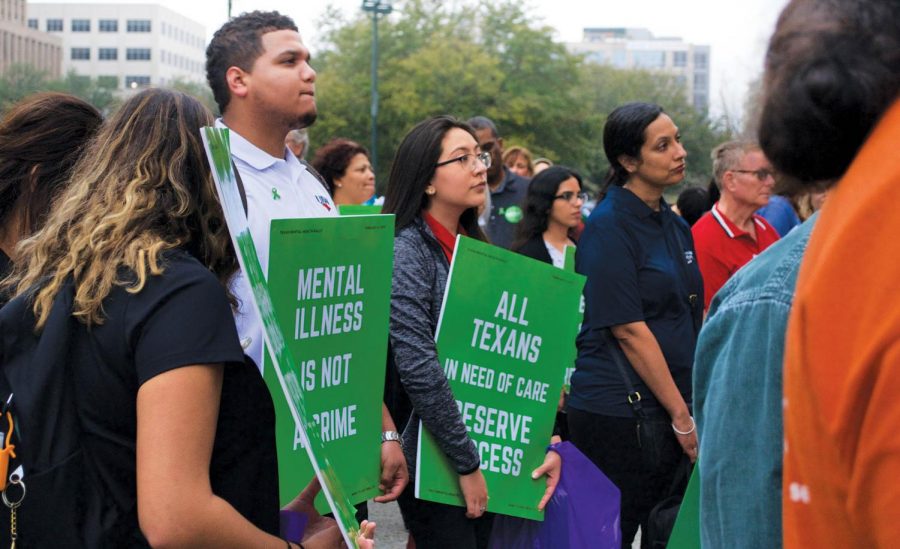 Rebeccah Hoffmann, Staff Writer
February 12, 2019
The National Alliance on Mental Health (NAMI) Texas hosted the 2019 Texas Mental Health Capitol Day Rally and Advocacy Training on Feb. 6 to raise awareness about and discuss mental health legislation in Texas.
Governor Greg Abbott has declared mental health legislation an emergency item this session, and the rally brought in state representatives from across Texas to speak on this issue.
"It is impossible to think of any family not touched by mental health. Even if you stop and think about your community, your neighborhood," Representative Senfronia Thompson said. "I am delighted that we can now shine a brighter light so that people can get help."
Among the handful of signs being held by those in attendance were signs that read, "Invest In Suicide Prevention It Saves Lives."
Rep Todd Hunter said "It's time to quit running from suicide and talk about it …It's time to address it straight on and stop sweeping this under the carpet,"
Along with addressing the issues in the state pertaining to suicide prevention, Hunter of the Coastal Bend, discussed the effects Hurricane Harvey had on those who were affected, especially children.
"Harvey was a Category Four hurricane. That is trama being hit upon people, you talk about a mental impact" he said.
Hunter discussed his experience staying in Port Aransas during Hurricane Harvey, as well as his talk with the schools superintendent, who urged him to focus on mental health for the session.
In addition to Hunter, many other representatives spoke about the importance of mental health reformation for children, and bringing this topic into Texas public schools, including Rep Shawn Thierry.
"It is time we provide greater education to our kids about the mind-body connection and mental health, so I have filed a bill this session to include mental health in our school curriculum," Thierry said. "If we can teach our kids about what foods to eat and the proper nutrition and food groups, you know we even provide instruction on dental health, well how about mental health?"
Mental Health America ranks texas at 50 on access to mental health care in the in the Country, with several cities in the state lacking helpful facilities.  Representatives from both parties have firmly stated that legislation is needed this session.
"We have to continue to help break the stigma of mental health," Rep Toni Rose said. "There is no shame in being mentally ill."