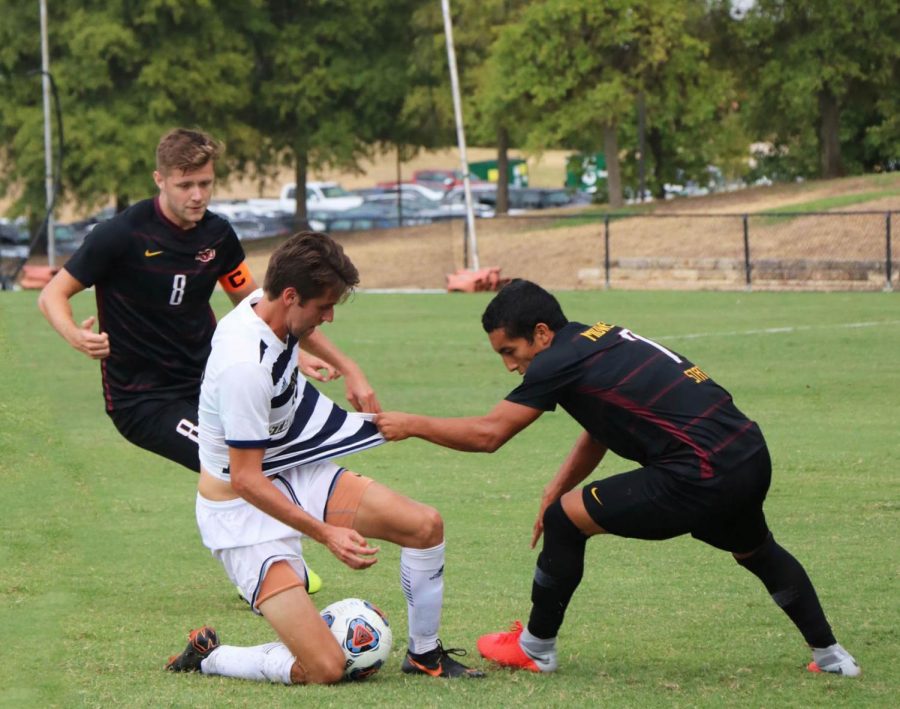 Bella Harris
The St. Edward's men's soccer team had a game this past Thursday against Midwestern State, ending in a disappointing 0-3 loss. 
The game as a whole was eventful, beginning with a weather delay that pushed the game back from 3 p.m. until after 4:45. The team's captain, senior Daniel Wakeham, believes that even with the weather delay and the team's optimistic outlook, it just wasn't their day.
"I think we all went into the game with a pretty good mindset, except for the delay which we obviously couldn't do anything about. Obviously the result wasn't great, it was just a bit of an off game for everyone really."
One of the most memorable moments of the game was when the referee called a red card on St. Edward's player, Izaac Zausch, for kicking an opposing player in the head. 
From where the stands were, nobody could really see what had gone down. So while a lot of the crowd was upset, many of the SEU players felt that the call was correct. Freshman Jason Lyons admits the validity of the call, despite the crowd's heated uproar. 
"When we got a red card I think, looking back on the film, it was deserved so I thought the ref did a great job." 
Even with the loss, none of the players seemed particularly discouraged for the future of the season. Senior Parker Fyfe, who recently earned Raising Cane's Player of the Week, says that even though they haven't been doing as well as they would like, just the knowledge that they are a good team and that they can get out of their slump is what is keeping him positive. 
"What keeps me motivated right now is knowing that we are a good team and that, even though we are in this funk right now, I know that we can get out of it," Frye said. "It's gonna take hard work and a lot of digging out of this hole, I guess. But I would say just knowing that we can do it, especially as a team together, and since it's my last year, I want to have the best outcome."
In fact, the players all have positive expectations for the rest of the season as they all hope to be able to do well in the conference and go to the NCAA tournament. Coach Brian Young has a positive 'practice makes perfect' mentality that he is sure will continue to push the team to success. 
"We try to improve," Young said. "Just like academics: if you don't get a great test score, you have to get back after it and do more hours with your professor and getting to the writing center and all that. Same thing with soccer: we just have to watch more film and work with players individually and as a team just to improve."
With this optimistic approach from both the players and the coach, the Hilltoppers will look to earn their first season win as they are set to host DBU on Sept. 26.