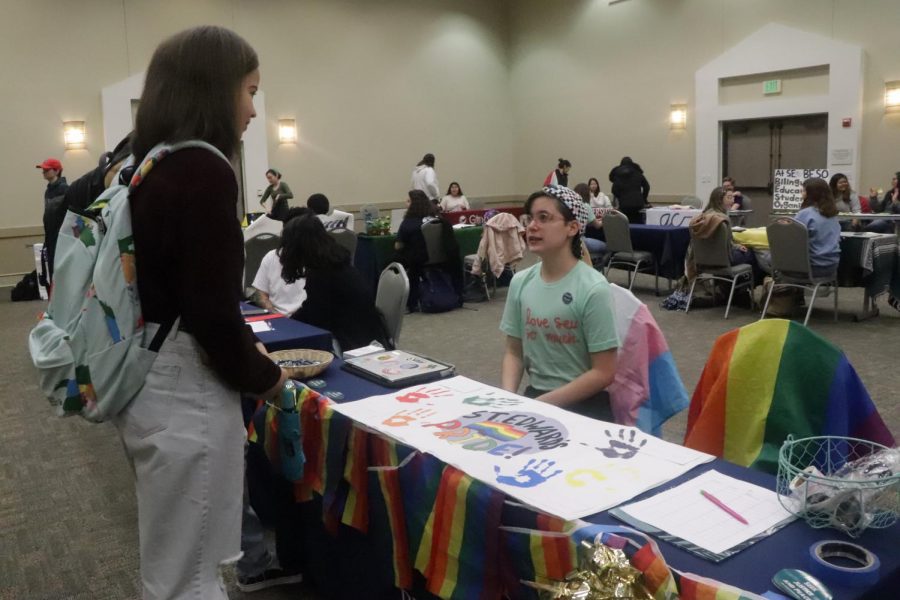 Audrey Cahak
Rain dampened the lawn outside the Ragsdale Center on Wednesday, Jan. 22, but inside the Mabee Ballrooms students attending the Involvement Fair gathered to learn about the different clubs offered at St. Edward's. Hosted by Student Activities Coordinators (SAC), the event was organized in order to showcase the multitude of academic, advocate and athletic groups that campus has to offer and to spread awareness to those interested in their activities.
Two days before the event, a rainsite at the Mabee Ballrooms was put in place by SAC because of a weather forecast of consistent rain and chilly winds.
Attendees, such as junior Kara Douglas, appreciated the new location because of the accessibility and the closer connection that attendees could make with club representatives at the indoor venue.
"I think it's nice because sometimes the weather is weird, like today, and it's nice to have it inside [since] there's more space. I think I've come [to the Involvement Fair] every year since I was a freshman. It helps you meet people and it's just nice to see what's going on around campus, and there's probably something that you'll enjoy because there are a lot of different [clubs] that you can join," Douglas said. 
Inside the Mabee Ballrooms, student organizations such as swimming, club basketball and support groups like PRIDE and It's On Us promoted their clubs and scouted new members for the current semester.
It's On Us member Maddie Benbenek was optimistic about recruiting new members who stopped at the IOU table.
"[We're looking for] people who are really passionate about what we stand for, and honestly we're really open to anybody and everybody who wants to be involved and stands by survivors and sexual assault prevention," Benbenek said. 
In terms of the weather, clubs like Bebneck's took advantage of the indoor personal space to gain more visibility and improve their outreach 
"I'm really happy that the venue change happened because it would've been really hard to sit outside for like three hours for everybody here in the rain, and also I don't think people would have been engaged and even wanted to come because they don't want to stand around in the rain."
In order to enthrall and encourage students to attend the event and inquire about the variety of clubs, the fair's stalls included free merchandise, sweet treats  and the chance to win prizes. 
Tabling for the Public Relations Student Society of America were Chapter President Fernanda Garcia and member Ana Torres, who tempted onlookers with a plate of cookies and pamphlets containing prevalent and informative information for all newcomers. 
"Our main goal is to expose students to a more professional view of what personal relations is. We have little workshops that we do for our chapter that will help build your resume and professional tips here and there. I think it's important to mention and promote here that…  [PRSSA] is really for any major because… PR can relate to any career and any interest" Garcia said.