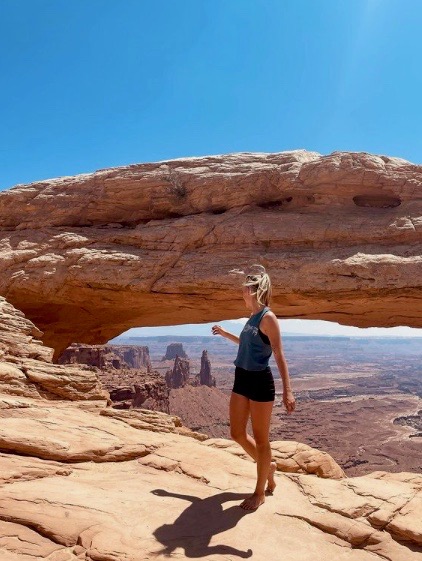 Gabby Petitos instagram
Lifestyle vlogging has increased in popularity since more and more influencers have entered the genre. 22-year-old Gabrielle "Gabby" Petito was beginning her own journey by traveling the country and vlogging it with her partner, 23-year-old Brian Laundrie. The couple began traveling cross-country in their van on July 2, but everything changed when she went missing on Aug. 24. While this is the last day her family heard from her, she was officially reported missing on Sept. 11. 
After receiving a text message from Petito on Aug. 30 reading "no service in Yosemite," Petito's family became concerned. Yosemite National Park was not part of the plan for Petito and Laundrie's trip, making Petito's family believe that this text was not sent from their daughter. 
Suspicions were raised further regarding Laundrie after he returned back to the couple's home in North Port, Florida on Sept. 1 without Petito. Laundrie also came under suspicion for not being the one to report Petito missing, and for not being cooperative with law enforcement regarding her disappearance. 
The case began to gain national attention after police released body camera footage showing an encounter law enforcement had with Petito and Laundrie. A call came into the police department in Moab, Utah on Aug. 12, almost two weeks before Petito was last heard from by her family. The call reported a domestic dispute between the couple, with the caller stating that they witnessed Laundrie slapping Petito. The footage shows a distressed Petito discussing fights she and Laundrie had with the officer, leading the officer to separate the couple for a short period of time. 
On Saturday, a body matching the description of Petito was found in Teton County, Wyoming. The coroner confirmed the next day that the remains were those of Petito. The cause of death was reported to be homicide.
Laundrie himself was reported missing on Sept. 17, last seen on Sept. 14. Petito's family believes that he fled and is currently in hiding. The search for Laundrie continues this week, with the search team venturing into swampy Florida areas in an attempt to locate him. 
The issue of domestic violence has been brought to the attention of the public and the media since this incident, with many expressing how important it is to leave an abusive situation before it's too late. 
"The death of Gabby Petito is one of countless examples of women facing domestic violence and abusive relationships," Destiny Nicoll, a member of It's On Us at St. Edward's University, said.It's On Us is an organization that helps raise awareness regarding domestic violence and sexual assault and aims to prevent these things from occurring. 
"Society also often teaches us to question why women 'don't just leave' but hardly ever poses the question of why men abuse or how to prevent domestic violence instead," Nicoll said.
According to a 2005 statistic from the National Organization for Women, 1,181 women were killed by an intimate partner of theirs that year.  
"Domestic violence goes unreported and under-discussed," Nicoll said. "It is a deadly issue." 
The case of Petito is just one example of the potential consequences of volatile relationships, with the case increasing awareness of this issue.