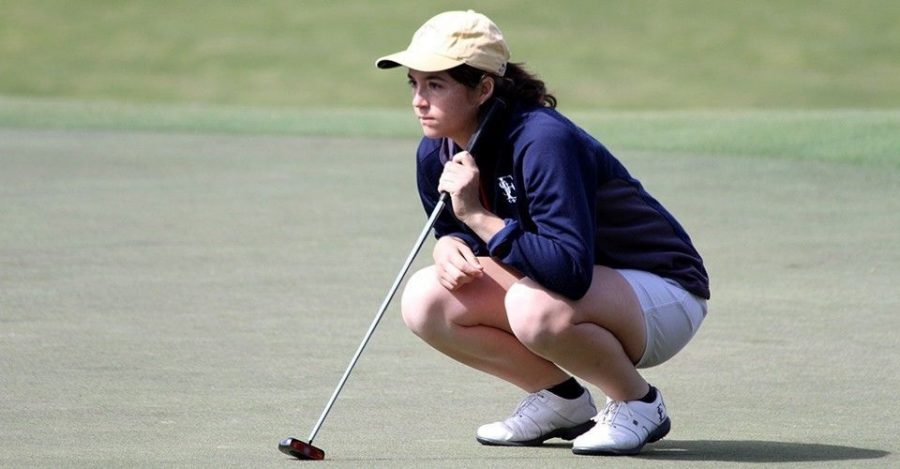 The Heartland Conference Tournament is always a tough battle for any sport – and golf is no different.
On April 19, St. Edward's University junior Jessica Tamen shot an even-par 72 to lead the Hilltoppers to second place at the Heartland Conference Championship. Due to rainy weather, the championship course was cut in half, as the competition went from 36 holes to only 18, according to SEU Athletics.
With each stroke counting even more than before, St. Edward's (304) narrowly defeated Dallas Baptist (305) by one stroke to claim the runner-up finish, while St. Mary's (296) won the tournament at 8-over par as a team.
"This week was a little interesting with all the rain delays," Tamen said to SEU Athletics. "But we were just told to be patient and take it one shot at a time – and that's what I did."
Freshman Ana Sofia Benavides (75) finished in a four-way tie for fifth place after carding three birdies. Junior Isabel Morales (78) carded two birdies on her way to a tie for 16th place. Junior Briana Vogel (79) and junior Sandy Livas (82) finished tied for 23rd and 29th, respectively, according to SEU Athletics.
"I think they did such a great job, and they had such a positive attitude," St. Edward's Women's Golf Head Coach Jennifer McNeil said to SEU Athletics, regarding the team's feats at the conference tournament. "They really were everything I asked them to be, and I'm really proud of them and how they played."
Named second-team all-Heartland Conference, Tamen tied for second with Allison Howarth (72) and Kelly Contreras (72) from St. Mary's University. Tamen is a senior academically, but a junior athletically.
"She is the smartest player I have ever coached," McNeil said to SEU Athletics. "She plays within her capabilities and knows what she can do and what she can't do … When her short game is on, there aren't too many who can beat her."
Both Tamen and Benavides were named to the All-Tournament Team.
Was this Heartland Conference effort good enough to seal a spot in the postseason? It's highly likely, although the official results are not in yet. Check SEU Athletics for updates.
All year long, St. Edward's has finished in the top half of all teams in every tournament, minus one.
This year, if the Hilltoppers are selected to Regionals, they will be one of 12 teams to make the NCAA West Super Regional from May 2-4 in Stockton, California. The three-day tournament will be held at Brookside Country Club.
"I think we are very happy and relieved to have put ourselves in a position to get into the Regional Tournament," McNeil said to SEU Athletics. "Once you're there anything can happen. It's a three-day grind, but I think they will play better."
Last season, St. Edward's captured two tournament titles, a second place finish at the NCAA West Regional Championship, a sixth place finish at the NCAA National Tournament, one second-team All-American and one academic All-American.