Senior cross-country runner makes big impression in first, last season at St. Edward's
In her first year of cross-country, senior Katy Gillis took sport by storm, lifting the team to new heights in only its first year back at St. Edward's University. 
She has recently been named an All Academic Honoree by the U.S. Track & Field and Cross Country Coaches Association (USTFCCCA).
The prestigious award has high standards of eligibility, on the field and in the classroom.  Students must hold a GPA of 3.25 or higher and finish among the top 30 percent of eligible runners at the regional championship.
This season is the cross-country's first year back at St. Edward's since 2008, so the notoriety is hugely significant to build the program's reputation as well as its hopes for the future.  
More than this though, Gillis embodies the camaraderie and sportsmanship that the Hilltoppers hope to carry on in the years to come.
"Katy brings a lot to the table.  She is an outstanding teammate.  She's very unselfish.  She doesn't care for… attention [from awards]," St. Edward's Cross-country Head Coach David Chandler said. "She would prefer that she have her team around her, so that's just fantastic to have that kind of humble attitude. It's been great to have her even this one year." 
Surprisingly, this has been Gillis' first year ever running cross country, having never competed in high school.  
A former member of SEU's club swim team, the senior was peer pressured to run by her friends and now teammates, Melissa Polo and Jordan Brown.  
It was through her hard work, dedication and outstanding team that Gillis was able to rise to this level of success in the sport. 
Some of her other accomplishments include being named a Heartland Female Runner of the Week and an honorable mention for All Heartland Conference.
Now, the senior attributes running cross country to be the best thing she's done with her last year here.
"My favorite part was getting to hang out with the team by all means," said Gillis. "I love those people. Just being with them makes me happy. They're like my favorite part. But as an individual, I wanted to do something for me, something that I was working hard at, so this was like a really good way to work on myself, like improving who I was."
Gillis' teammates share that same love for her, as she is often attributed as the "mother of the team" being a senior confidant and model for the underclassmen. 
Freshman cross-country runner, Rachel Frei, calls Gillis her "running sister."
"Every workout we ran together, we pushed each other and we genuinely enjoyed running together," Frei said. "She always kicked my butt in races, but she continuously pushed me, making known my own ability as a runner and I felt such companionship. Everyday was a blessing with Katy. She is truly a wonderful inspiration for me, on many levels."
As Gillis moves forward into the world, she leaves behind a legacy of camaraderie, dedication and an incredible first season for St. Edward's cross-country team.
About the Writer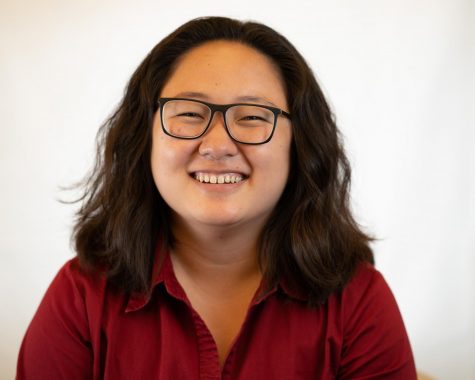 Lilli Hime, Staff Writer
I am Lilli Hime—English Writing and Rhetoric major and freelance writer at Hilltop Views. This is my senior year at St. Edward's University.

My role...