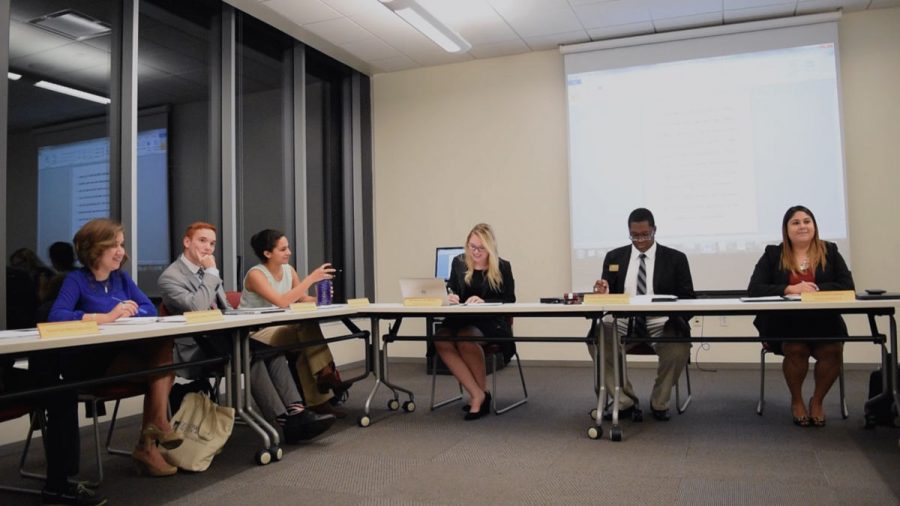 The Student Government Association abolished its accountability code at its senate meeting Thursday evening, eliminating internal performance reviews a week before members would have been subjected to examination.
"I don't think the accountability code that we currently have is an accurate measurement of our representatives," Parliamentarian Faith Castillo said, who authored the bill and promised to compose a new "code of ethics" to replace the old one.
"My biggest concern is if we are abolishing it tonight we don't have something to look at," Sen. Paola Gallegos said. "I can't really vote on this without seeing the code of ethics."
Though a new ethics code was proposed within the bill, Castillo said it would take her a month to draft it, so there is currently nothing in place measuring the association's accountability.
"What this exactly looks like hasn't been formulated simply because we are working on the language," Castillo said.
This motion comes after eight senators failed their performance reviews last semester, six of which are currently senators.
The following senators voted in favor of abolishing the accountability code:
• Jessica Guajardo
• Oliver Guerra
• Carlos Martinez
• Janelle Nacpil
• Dominick Namis
• Kennedy Namis
• Andrea Ojeda
• Greg Reck
Sens. Jamie Cardenas and Paola Gallegos voted against it. Sen. David Isaac abstained from voting. And Sen. Ben Griffith did not vote because he sponsored Castillo's bill.
Cardenas, Isaac, Nacpil, Kennedy and Dominick Namis and Ojeda all failed last semester's performance review. Griffith, Guajardo and Reck passed.
Castillo explained that the code of ethics would be different because "there are no demerits," meaning that members would not be formally reprimanded for not performing well.
"When everyone is focused on just that one day to pass the exam or going [to meetings] because they are going to get a demerit [if they don't go] it doesn't produce an effective, functioning student government," Castillo said.
Under the new code, Castillo said, the student body would primarily hold its elected members responsible and members are supposed to tell each other when they are dissatisfied with their performance.
She suggested that this new requirement would improve performance within the organization and admitted that "no one knew the current accountability codes existed" until "it came time for performance reviews."
Before the bill was voted on — after being asked to clarify this point during the debate — Castillo confirmed that fast-approaching performance reviews would be avoided if the bill was passed.
Sen. Dominick Namis asked, "How do we actually keep people accountable?"
"This code of ethics is going to lend that responsibility to holding not only yourself accountable, but each other," Castillo said. "There will be a sanction process, but it won't be to where it's nit-picky for every little thing, it'll be: 'As a whole, what are you doing?'"
The bill did include a proposal for a "Great Review" to replace the old performance reviews, but both Vice President Jonathan Edwards and Castillo confirmed that the association still has not ironed out what that would entail.
"I really want to see how the accountability thing would work," Gallegos said.
Castillo pointed out the fact that not passing the bill would leave the old examinations in place.
"If we did not pass this through, there would still be an exam because we have to abide by what would be in place," Castillo said.
Although Gallegos persisted, Castillo reminded the room again that performance exams would still be in place if they did not vote to abolish the accountability code that night.
"We are short on time for the end of the semester already, so to construct a whole ethics code, vote on it by the end of this semester… It's just a big thought to throw out there if we are doing all of this just to avoid the test," Gallegos said.
With five minutes left in the meeting, the senate delivered its final comments and the bill was passed.
"Like I said in the beginning, if we did not do this tonight, everyone would still abide by a test," Castillo said.