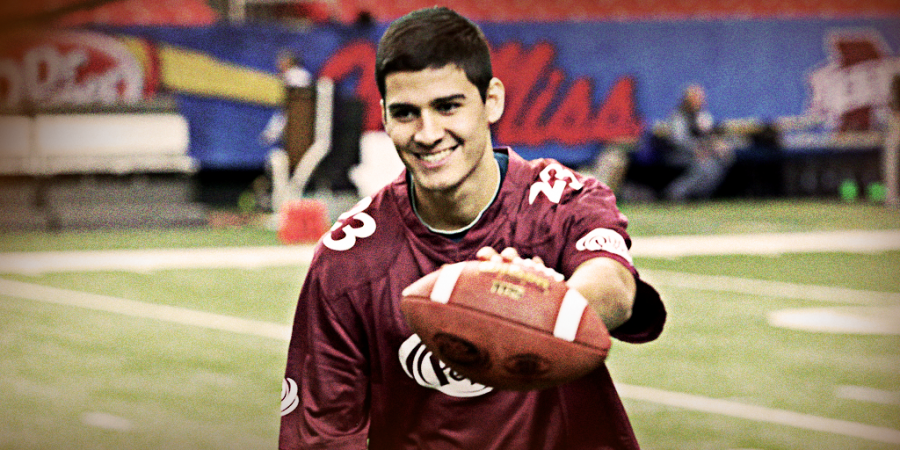 One St. Edward's University student just won $100,000 in tuition money for medical school.
During halftime of the SEC Championship game on Dec. 5, freshman Nathan Garcia competed in a traditional football throwing contest that earned him a scholarship from Dr. Pepper.
Congratulations, Nathan Garcia on winning $100,000 from @drpepper in tuition! #SECATL pic.twitter.com/UEJZBRTx1N
— SEC Sports (@SEC) December 5, 2015
Using a chest-throwing technique to make as many footballs into an oversized Dr. Pepper can as possible, the Los Fresnos, Texas native was then presented a large check from James "Jim" Johnston, president of Dr. Pepper-Snapple Group, Inc.
"Thank you Dr. Pepper for selecting me to participate in an event that is greater then me. I feel like this is all part of a plan to help me help others. An honor that is difficult to describe! I'm overwhelmed w all kinds of emotions, but mostly being extremely grateful!" Garcia said on Facebook prior to the competition.
After winning the Dr. Pepper tuition challenge on national television, the biochemistry major thanked several people.
"I found out about this scholarship when my friend was asking people to vote for her on Facebook. I clicked on the link to vote for her and realized that I should apply for it also," Garcia said. "What caught my attention was that the first place winner receives $100,000."
As explained in his online video submission for the scholarship opportunity, Garcia plans on becoming a pediatrician, so this scholarship will help cover undergraduate education and medical school costs.
On campus, Garcia serves as president of Health Occupations Students of America, captain of the All-Sports Cup Team for East Hall and is also a member of Hilltop Leaders, the American Medical Student Association and GlobeMed.
Prior to attending St. Edward's, Garcia was a four-year member of the Charger football team at Brownsville Veterans Memorial High School, where he also played basketball, baseball and ran track and cross-country in the Rio Grande Valley.
As for the college football during SEC Championship, No. 2 Alabama Crimson Tide beat No. 18 Florida Gators 29-15, largely in part due to lack of throw-completion from Florida's quarterback Treon Harris.
I shudder to think of how badly Treon would lose the Dr. Pepper Challenge to Nathan
— HOLIDAY APPRECIATOR (@edsbs) December 5, 2015