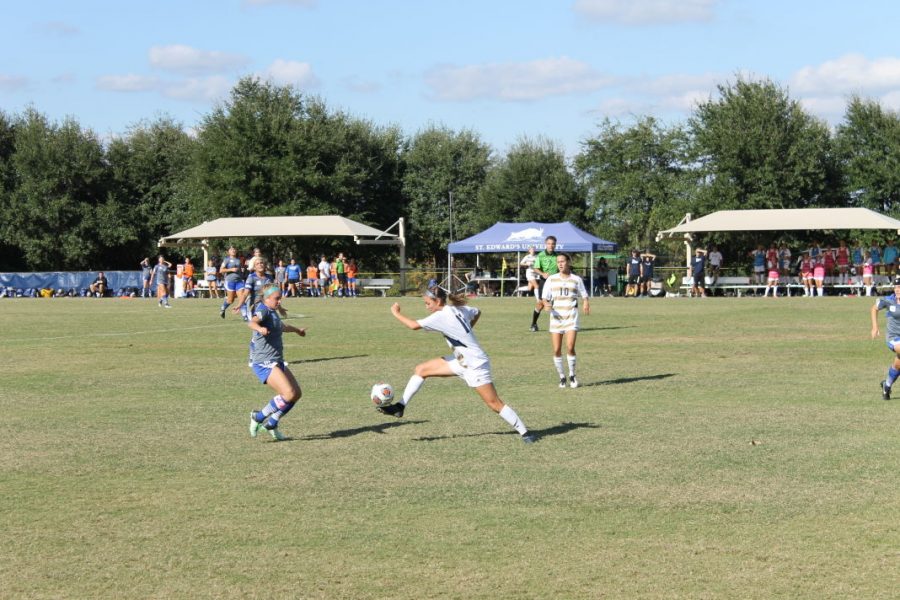 The No. 5 seed St. Edward's University women's soccer team defeated No. 4 seed Fort Lewis College in the preliminary round of the NCAA Tournament.
After a scoreless 120 minutes of regular and extra time game regulations, the Hilltoppers were forced into a penalty kick shootout, outscoring the Skyhawks 4-3.
In penalty kicks, Fort Lewis shot first, but junior goalkeeper Lorrie Santoy dived to make a clutch save to give the Hilltoppers momentum.
Shortly after, St. Edward's senior midfielder Valencia Mobley found the back of the net to make the score 1-0.
Freshman midfielder Sabrina Cone, freshman defender Grace Mcswain and sophomore forward Elin Rosenberg Cemezar then made goals No. 2, 3 and 4.
The only shot blocked by Fort Lewis was from senior defender Katie Donahue. It was the fifth and final attempt on goal for St. Edward's.
In Fort Lewis' final frame, Santoy read and blocked the shot, as the Hilltoppers celebrated their 4-3 victory.
Now advancing to the second round of the NCAA Tournament, St. Edward's will play against No. 1 Angelo State University Sunday at 2 p.m. The winner of tomorrow's game will be represent the South Central Region in the NCAA Sweet 16.