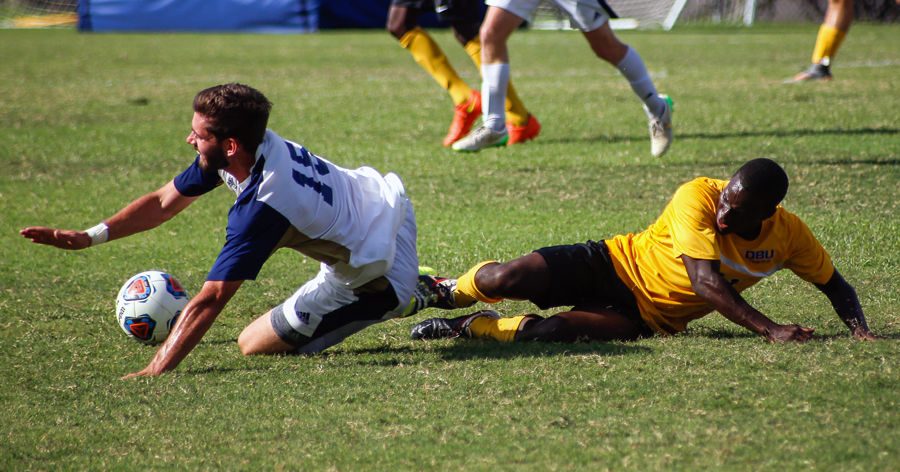 In the start of their season, the St. Edward's University (SEU) men's soccer team has dominated in their first seven games. Undefeated, this group of dedicated players work hard on and off the field to build toward their massive success.
On Sunday, the men's soccer team played against Eastern New Mexico University where they had a 8-0 shutout, improving their record to 5-0-2.
"Our defensive pressure is getting very solid and we are getting more comfortable in front of goal. We have scored five plus goals per game in our past three games," junior midfielder Steve Auodou says. "We started well, but we are getting better as the season is progressing. Our chemistry as a team is looking better."
The team establishes a close connection by focusing on including everyone. Through the leadership of veteran upperclassmen, the team continues to flourish with their added set of freshmen.
"This is the best we've had so far compared to previous seasons. We started well, but we are getting better as the season is progressing," Aoudou says. "We also have a deep squad so many players can contribute to the game."
"It makes me want to work harder for them," freshman Layne Broihier said about the extensive support and guidance given by the team. Dreaming of playing for St. Edward's since fifth grade, Broihier knew of the high standards the coaches would hold him to.
Head Coach Brian Young says that when St. Edward's is recruiting, the program first looks for good students and people of good character. Members are described to be not only athletically gifted, but also students with integrity and academic achievement. 
The expectation is that each player earns their spot through immense training and commitment. There is an emphasis on maintaining a high work ethic, while also sharing mutual growth and learning.
Young is confident in this group, saying their players have developed faster than any other year. They've found different ways to score goals and have become an overall better team. 
When asking Young what it means to coach at St. Edward's for 12 years, he answers, "it means everything. I love the athletic department and student body."
"[The coaches] get on us, but they know what they're talking about. I've learned a lot since being here this past month," freshmen Antonio Arana says. He adds that the first set of games were challenging as there is much to improve on.
Currently, St. Edward's men's soccer is ranked eighth in the NCAA DII National Poll. They plan to continue stepping up their game in the hopes to make it back to the Heartland Conference and NCAA National Tournament.
"I take pride in being on the team. I have a passion for soccer and I know they're going to make me that much better of a player. I hope to be an asset these next four years," Arana says. 
With this distinguished lineup of athletes, St. Edward's men's soccer offers a promising season of success.
"It has been an exciting season and if we keep doing the right things and listening to the coaches, we will go very far," Aoudou says.
Follow @jenniferspalll and @Amanda620DG on Twitter!