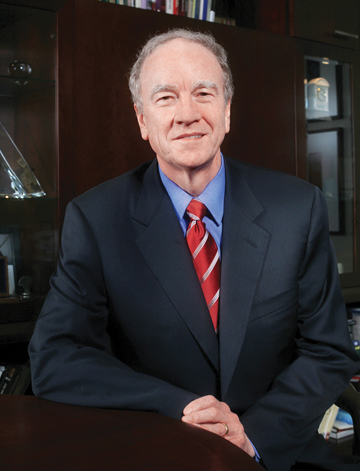 Dear Students,
On behalf of the entire St. Edward's University community, I extend a warm welcome to the Class of 2019. To all the other students on campus, welcome back! It's a great joy to watch you begin another academic year.
We've started the year with a bang. We have enrolled the largest freshman class in the history of the university. Student retention is at the highest level in years. All of us are especially proud of these statistics because they indicate that the university is serving students well. Not only that, but our students come from 33 states, 23 countries and countless cultures — our Holy Cross mission to educate students from all backgrounds and beliefs is present and thriving in every residence hall, classroom and coffee shop on campus.
We are working hard to build upon and improve your student experience. During the year, you will see many initiatives as part of these continuous efforts. Main Building and Holy Cross Hall will undergo major renovations. New student housing, with an additional 400+ beds, is in development for the site currently occupied by the Woodward Office Building. We are also looking at additional dining opportunities. Campus Recreation programs will continue to grow, adding new ways for students to relax and exercise. And our varsity athletics program will field new men's and women's cross-country teams.
Major advances in technology will enhance the educational experience on campus. Students and faculty will have access to Webex, Canvas, Panopto and a new global event facility in Jones Auditorium. The new technology in Jones will make it even easier to be part of events like the Indie Meme Film Festival we hosted last year with actors and directors from across the world and to broadcast lectures sponsored by the Kozmetsky Center of Excellence in Global Finance.
We have crossed the $80 million mark in our $100 million fundraising campaign. The campaign's success will assure the university's ongoing support for scholarships and student and faculty research. Through these fundraising efforts we have already built the Munday Library and created new scholarships benefitting more than 300 students per year.
Through the Office for Scholarships and Fellowships, current students will be able to follow in the footsteps of students who in previous years have won 36 Fulbright awards (positioning St. Edward's among the top universities in the country for the past six years), a Truman Scholarship, 18 Gilman Scholarships, four U.S. Presidential Management Fellowships and many other awards.
It's an exciting time to be a part of the St. Edward's community, as everyone who was on campus recently for our annual Hillfest celebration and the spectacular fireworks finale can attest. I'm proud to be starting my 17th year as president, and I look forward to seeing all that we can accomplish this fall and in the future. Together, we can continue working toward our vision to prepare talented students like you for the opportunities and challenges of our 21st-century world.
Sincerely,
George E. Martin, Ph.D.
President