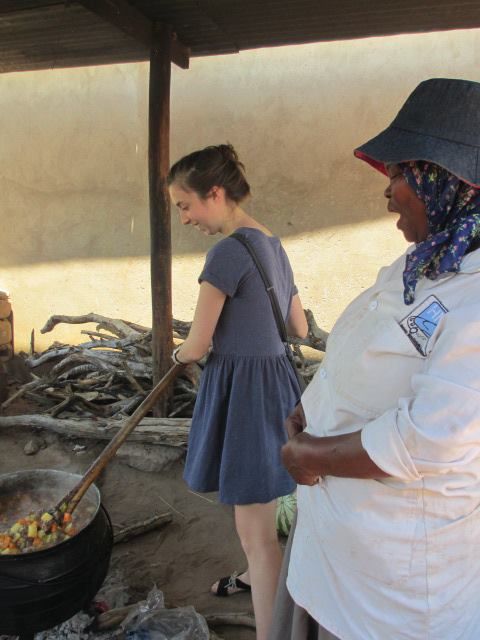 Time is a different concept here. When a Motswana tells you she'll meet you at 6:30, she means 7:45. When the school announces that classes will begin this Monday, they mean Friday—or possibly next Monday. The locals call it African time. I hear things go even slower outside the city.
My classes were supposed to start last Monday, but it's rumored that half the school isn't yet registered, and the classrooms are being used for supplementary exams (exams that are taken by students who didn't do so hot in their courses, so they can take a test to earn a few points back.) I showed up to my classrooms to find them empty. When people came in because they wanted a cool place to sit, they were puzzled at my waiting.
This week has been a lot of waiting. Waiting 30 minutes for a webpage to load. Waiting to receive the meal stipend from my study abroad program so I can eat. Waiting for the sun's rebirth early in the morning, watching in awe from Kgale Hill's peak.
Throughout the week, I've embraced opportunities to become more acquainted with the culture. Saturday I went to a wedding, where I was enthusiastically welcomed even though I didn't know the bride or groom (it is not uncommon for Batswana to welcome even passerbys to celebrate a marriage with them.) It was in a village that resembled the Africa I had pictured before coming (Gaborone, the city housing the University of Botswana, is a bit more developed.) There were women walking the red dirt roads, balancing firewood or baskets on their heads. There were goats and cattle grazing in tall, dry grass. There were people burning trash and washing clothes, and children playing together.
As I walked around the bride's yard before the wedding, some of the wedding guests invited me to help prepare food. I wasn't sure who the guests cooking were, because strangers often wander in at the sight of big white tents and begin helping prepare just for the sake of helping. One lady, Thelma, was especially excited that I was there as a witness to her culture. She made me repeat words in Setswana and smiled and laughed when I pronounced them wrong. She kept yelping in celebration in her unique Tswana tongue, and she made me mimic her noises that were so foreign to me.
Working for only about an hour in the 95 degree weather, I nearly got heatstroke. I stirred a huge pot of stew over fire, carried enormous metal bins of potatoes to a cool shed, and scooped out pounds and pounds of samp, or cooked maize, from a steaming pot. For people living in villages, these are the everyday tasks of meal preparation for the family. I'll never understand how the cooks, mainly older women, are able to do it.
During the wedding, I struck up a conversation with a Matswana named Michelle who was sitting near me. She wanted an American's opinion on women's rights in Botswana. She explained how, at weddings, married women who followed the culture have to wear thick shawls, even in the summer heat, to represent submission to their husbands; how a woman isn't supposed to complain if her husband cheats on her; how a man pays a dowry to his wife's family, which, in Michelle's opinion, instills in him a sense of entitlement to her—a complex that allows him to feel like a creditor.
I didn't give Michelle my opinion then because I'm trying to accept the culture as it is. But the more I think about it, the more it saddens me. Women's oppression and maltreatment prevail, even in this beautiful, progressing country full of beautiful people.
Ever since the wedding, I don't laugh at marriage proposals from strangers anymore. Instead, a hot frustration wells up in me, as I am reminded of how many men view women here: as pretty faces and potentially submissive wives.