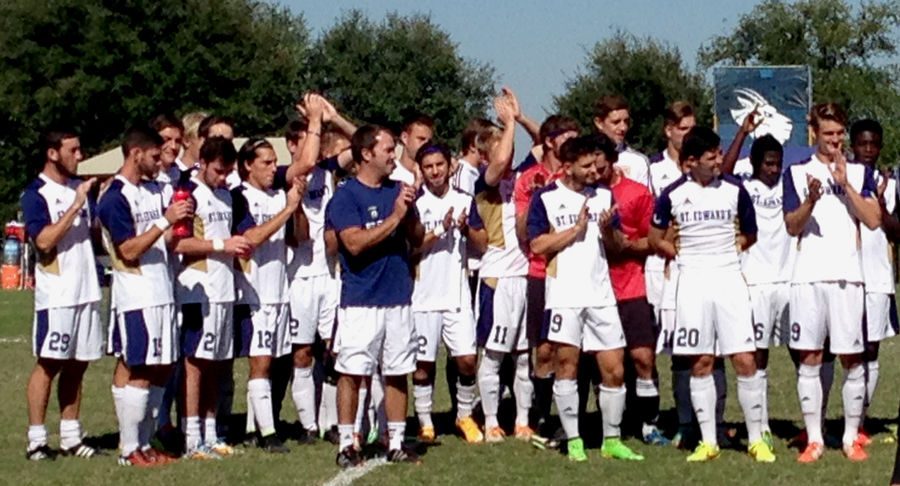 St. Edward's University's men's soccer has earned their third-consecutive Heartland Conference crown, capping off their regular season with a nine-game winning streak and a No. 13 ranking in the National Soccer Coaches Association of America (NSCAA) poll.
For the first time in the history of the Heartland, the Hilltoppers have a perfect conference record and are now unbeaten in their last 14 matches, with seven of them coming during their longest road trip in school history.
Leading the charge for the men has been senior midfielder Andrew Fox, who has tallied 14 goals and nine assists in the absence of star forward Daniel Riley.
After Riley suffered an injury early in the season, Fox and his teammates have stepped up their play as a tribute to their senior leader.
"I think the whole team knew that we had a responsibility to bring a work ethic and to battle, as Danny always does for us," Fox said. "Some of our younger and newer players have really stepped up too and made a great impact this season."
The Hilltoppers have also been stout defensively, conceding only six goals in their last 13 matches. Junior goalkeeper Kevin Leib has been crucial to these displays, posting seven shutouts and a save percentage of .836, and still sees room for improvement.
"We have worked on crosses, which has been a weakness in the past," Leib said. "The strengths of the team are our defensive pressure and a disciplined back line."
Despite such a high national ranking, the Hilltoppers have taken things one game at a time. After being ranked last season and failing to qualify for the NCAA tournament, the men are not concerned with their place in the polls.
"We just think about the next game," Fox said. "We do not want to get ahead of ourselves or distract from the challenges that we still have to overcome. The NCAA rankings don't mean anything to us until the end of the season."
Now that the regular season is over, the men are optimistic they can carry over their momentum into the postseason, which starts this weekend with the Heartland Conference Tournament.
With success in the conference tournament, the Hilltoppers can punch a ticket to their first NCAA tournament since 1999. However, Head Coach Brian Young is keeping his team focused on the task at hand.
"Even though we have done some wonderful things in the last 14 games, we have to win our first Heartland conference playoff game to secure an at-large bid to make the NCAA tournament," Young said. "We still have a lot of work to do."
Using last year's tournament snub as motivation, the Hilltoppers hope this weekend will be the first step towards their ultimate goal: a Division II National Championship. They play at home Nov. 7, at 2:30 p.m.