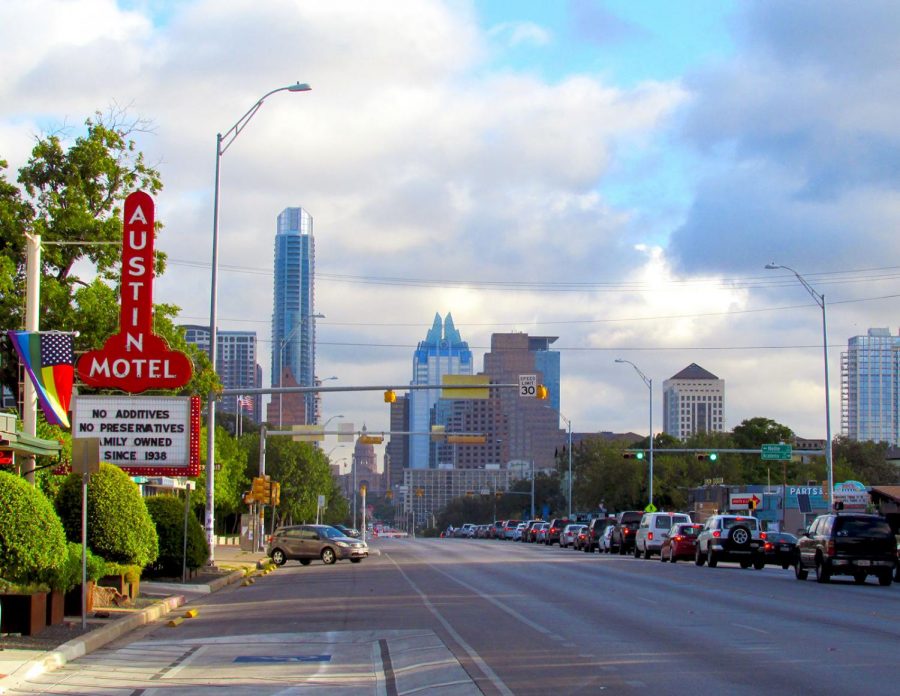 South Congress Ave. is worth visiting if for no other reason than its spectacular view of Downtown Austin.
South Congress, or SoCo as many call it, is almost always changing and revitalizing itself. The street once known as a place with cheap rent and unknown shops, is now a big tourist hotspot. No one who lives in Austin or visits for vacation should miss the variety of shops and restaurants.
Easily within walking distance of St. Edwards University is a variety of food, desserts, salons, lounges and boutiques.
Almost next door to St. Edward's are the SoCo Berkshire apartments and shopping center. Thundercloud Subs takes sandwiches seriously, with classics like turkey or ham and fun vegetarian options. In that same strip is Black Orchid Salon and Stompin' Grounds Cocktail Lounge. The latter offers an array of coffees, foods and mixed drinks.
For probably the greatest variety of ice cream flavors and toppings, visit Amy's Ice Cream. There are two Amy's Ice Cream's on South Congress: one across the street from St. Edwards at 3100 South Congress Ave., and one at 1301 South Congress Ave.
Traveling down South Congress towards the state capitol are many Austin landmarks. Magnolia Cafe, a staple for over 26 years, is open 24 hours a day. Magnolia Cafe has comfort food with a modern twist, such as Royal French Toast, lox and bagels and mocha floats!
A little farther down is another landmark, Lucy in Disguise with Diamonds.  
"Sometimes my friends and I like going just to the costume shop to look around, its fun to look at all the stuff there," Sara Raines, a junior at St. Edward's, said. 
Open year-round, Lucy in Disguise with Diamonds has been part of SoCo since 1984.
Doc's Bar and Grill at 1123 South Congress Ave. offers outdoor deck sitting, great TVs for games and good beer.  
Some of the best hamburgers in Austin are at Hopdoddy. On a hot day the wait can seem brutal and the cost of a hamburger can be pricey. The result, though, is a truly fantastic gourmet hamburger, with options for vegetarians and carnivores alike.
As an Austin tradition, on the first Thursday of every month, stores stay open late and local companies set up stalls. Warrior Within Designs representative Valerie Boatman sells women's one-piece apparel.
"The event has moved further north on Congress but it's still fun, especially with live music from Guero's," said Boatman.
The best way of experiencing South Congress is on foot during a beautiful day.
Austin B Cycle, which rents bicycles for the day at about eight dollars, is a convenient and eco-friendly option.
Luckily for St. Edward's students, all of South Congress Ave. is just a short bus ride away. Capital Metro has a bus stop in front of St. Edward's and makes many stops onCongress.
South Congress is part of what defines Austin, and in a city transforming as this quickly, there is no better time to see it than now.
Follow Jessica on Twitter @jsalaza1