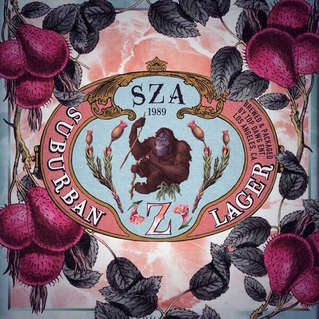 It is looking to be a banner year for hip-hop up-and-comers Top Dawg Entertainment, with their entire roster scheduled to put out new projects this year, in addition to the ones that already dropped. The thing is, most of those are coming from men who rap, and that is what makes their newest project, SZA's debut "Z," a bit different.
One of two recent signings, SZA is the lone female on the label, and the only singer/songwriter, which makes things tough already, and expectations are high for anything new they put out (thanks Kendrick Lamar). So pressure is on from all fronts.
Stylistically, SZA seems to tread the same ground that peers like Jhené Aiko have already been treading: druggy, slow R&B. That really sets in from the first hypnotic track "Ur," with backward masked vocals and a gentle beat that is like a cradle rocking. SZA's voice is gentle, with a hint of fellow frizz-haired diva Erykah Badu for spice, so it can feel like things we have heard before.
But SZA can break out of the Jhené Aiko mold and does here to superb results, like on "Julia," with an uptempo beat that sounds like Depeche Mode got really stoned on the dance floor. She also changes things up with the jazzy "Sweet November" and "Babylon,"  a trap influenced beat seemingly produced by Delerium. There is also the stark lyricism of songs like "Green Mile."
Another nice touch is that there is not a reliance on guest artists, with only three on the record, and even then they just add quality without toe-stepping. I love how Chance the Rapper interrupts SZA and seems to play a counterpoint with her vocals on "Child's Play," and Kendrick Lamar is on his usual A-game on "Babylon," even if he was just thrown onto a song that was incredible without him. Isaiah Rashad could totally have done more on "Warm Winds" though, and it was a waste of his potential not to get more out of him than just a hook.     
This album is a great showing from SZA, and things could really flip for her if she can break out of the pot-fueled haze that permeates her sound.