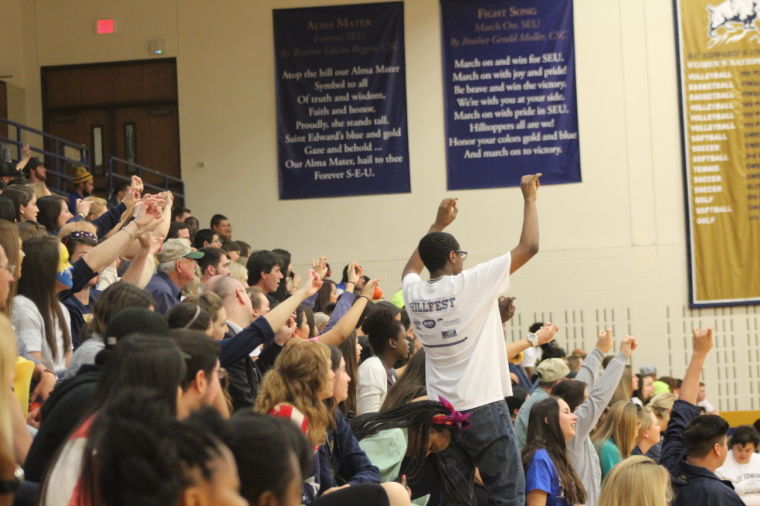 Students, parents, staff and alumni joined together last weekend in the spirit of the University during this year's Battle of the Saints Homecoming basketball games. The day featured a double-header against St. Mary's University. With the help of the University Programming Board (UPB), the turnout of both students and adults was impressive.
This support from the St. Edward's student body is a vital part of the Battle of the Saints tradition, no matter what sport is being played.
"It is important to support the rivalry," sophomore softball player Cydney Ervin said, "to keep the camaraderie between the two universities and the intensity of what the day actually means."
The lady Hilltoppers played in the first game, building a 38-29 halftime lead over the Rattlers. However, a pair of 8-0 runs for St. Mary's in the second half proved to be too much for the Hilltoppers. They fell to the Rattlers 74-66.
After the game, the St. Edward's Athletic Department honored six seniors on the women's team; Kelsee Barr, Stephanie Dekkers, Kendra Field, Casey Riley, Erika Rousculp and Valencia White.
The men's team also honored five of their own players. Seniors Tyler Foster, James Stukes, Chris Wacker, Matt Miner and John Rutherford.
The men's team hoped to end the day on a winning note as the Battle of the Saints continued with the men trying to take down the Rattlers. In the first half, senior guard John Rutherford scored 11 points and helped the Hilltoppers build a 32-27 halftime lead. St. Edward's had the hot hand, and the large crowd helped play a key role.
"Overall I loved the energy from the crowd," freshman cheerleader Brooke Buckley said. "It really reflected the way the players got to play their heart out with all the exciting energy."
In the second half, fans were kept on the edge of their seats as St. Mary's got back into the game with a suprising 15-7 run and held a 73-70 lead in the final seconds. Senior guard Tyler Foster attempted a three-point shot at the buzzer to tie the game for the Hilltoppers, but it went in and out, giving St. Mary's the victory.
"I really thought the men and women's teams played exceptional, they just could not catch a break in the long run," freshman student Zach Bryant said. "Honestly I can't blame the loss on our teams because in my opinion, both dominated."
Even though both the men and women faced heartbreaking losses, St. Edward's community still had a great experience supporting their Hilltoppers to the final whistle.
"The crowd from the beginning of the women's game, to the end of the men's game kept the games completely energized," Bryant said. "They were loud, got into the cheers and added a little bit more excitement to the overall hype of the rivalry. I am very proud of the friends and families that cheered with me today and these Homecoming games will be a major highlight in my semester."