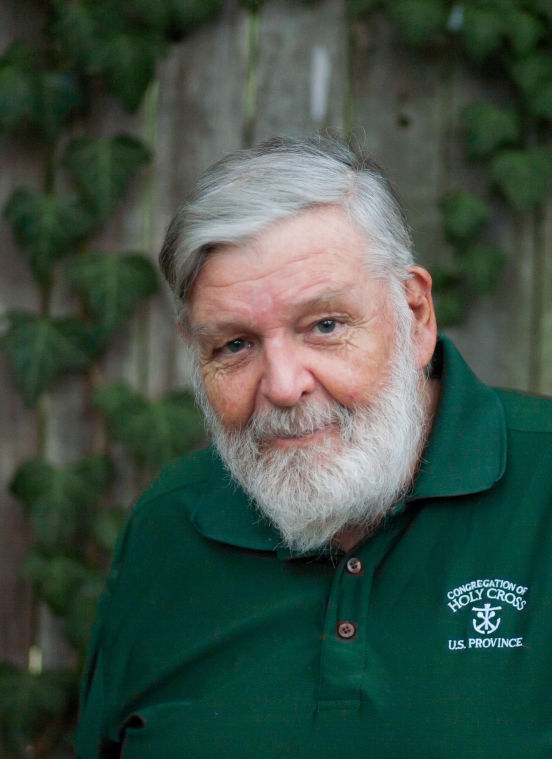 Father William Crumley has been a constant advocate for social justice since he was very young and newly-ordained. He may be aware that he has been a "radical" before most of the students at St. Edward's University were even born.
Published in Dec. 2012, his book "Restoring the Common Wealth" is a manifesto that has been evolving for almost 30 years. The book is mostly non-fiction, with little bits of strange fiction throughout, and depicts the legacy of environmental and social damage in the United States. One of the curious inventions in Father Crumley's book includes a scene in which an empathetic character buries the body of Hitler.
Students have probably seen Father Crumley around campus on his blue fold-up bicycle or sitting in the grass with the Students for Sustainability. He could be spotted at a city hall meeting in Austin, giving a testimony on the benefit of credit unions and the injustices of big banks.
Crumley was ordained for the Catholic Church in 1964. He spent 44 years in Southern Louisiana and worked for 10 years in a social justice ministry. While he was in Louisiana, he became close to a local Native American tribe, the Chitimacha. With them, he fostered ideas and friendships, especially with a woman named Whitney Vilcan, who later became the inspiration for a character in his book. Father Crumley remarked that nobody owns the land, a notion he inherited from his friends.
"Restoring the Common Wealth" was originally published as "The Disjointed Society" 20 years ago. When Father Crumley was in Louisiana, he was the pastor of two parishes and a founder of another church. In the 70s, he managed to have the time to build two solar houses where the Sisters of his church slept. These homes were meant to be models for the impoverished. They were a way for the poor to become financially strengthened, which is the heart of his work. Upon his early investigations into wealth disparity, he was told to "follow the money trail," a journey that he describes in his book.
"I looked at some CIA/Nazi connections within the Vatican. They managed to get the Vatican to launder drug money," Father Crumley said. "That's all documented. This is not fiction, let me start off by saying," he added.
"It's all been researched. I decided to do this in a novel form." There was also a connection between the U.S. government, the large corporations and the Nazis exploiting the people in Latin America, Crumley said. He talks about the Nazi gold being studied out of Latin America. Father Crumley argues that the countless stories of injustices in history are not disjointed stories, but rather connectable pieces of one larger story.
The larger story actually originate's from Crumley's childhood. "My father, when I was in grade school, just after WWII, told me that we might be moving to Venezuela. My father died within a few years. We didn't move to Venezuela. Somebody else went. I often imagine that if we had gone there, that I could have been the person exploiting Latin America," Father Crumley said. 
"There is a woman at the post office who told me that I have a vivid imagination, but it's not imagined," Father Crumley said of his book.