Martin authors chapter in business strategy book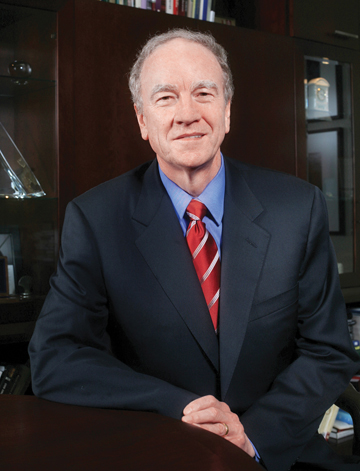 Jen Obenhaus
March 28, 2010
The president of St. Edward's University will be adding "author" to his resume.
George E. Martin has authored a chapter entitled "Priorities and Principles: How to Set and Achieve Your Strategic Plan." The chapter is featured in the recently-released book, "Updating Your Company's Strategy."
"It's fitting that the chapters of this book will be published during the university's 125th anniversary," Martin said. "Our story is one of bold ideas, resilience and perseverance. I was honored to be able to share the details of how we've become one of the best small universities in the country."
Martin's chapter discusses how his business strategies for the university can provide insight for those needing to adapt or update an inert business plan by combining past successes with contemporary business methods.
"At St. Edward's, we are reaching the end of a 10-year strategic plan that has established us as one of the best small universities in the country, our vision when we began looking to the future after my inauguration as president in 1999," Martin wrote in his chapter. "As a nonprofit and a university, of course, we operate a little differently than for-profit businesses, yet at the root, we are the same. Mission, customers, employees, facilities, bottom lines — all of these drive our daily operations, and all of these have been critical to success with our strategic plan."
Other experts that have authored chapters in "Updating Your Company's Strategy" include William Burrus, president of American Postal Workers Union, and Raju Boligala, president and chief executive officer of HerbThyme Farms Inc.
The 116-page book, published by Aspatore Books, explores practices for creating a new and improved direction for today's companies.
Martin's credentials make him an authority in the business field. With more than 40 years of experience in higher education, Martin also serves as chair of the Council of Independent Colleges, chair of the Independent Colleges and Universities of Texas and board of director for the American Council on Education. Martin holds a bachelor's degree in political science from St. John's University and master's and doctoral degrees in political science from Fordham University.
Since Martin was named president of the university in 1999, the freshman class has more than doubled from 368 to 757 students, and freshman retention has improved to 84 percent, helping to increase overall enrollment from 3,000 to 5,300 students, according to Marcie Lasseigne, public relations associate at the St. Edward's Marketing Office.
"As we look ahead and begin to draft our strategic plan for 2015, we reaffirm our commitment to our mission," Martin wrote. "We recognize both the opportunities and challenges presented by an increasingly global community connected through technology, learning, and shared values. We look forward to forging ahead, with the spirit of our founders and the passion of our people to sustain us."