Greek Life can exist, thrive under certain conditions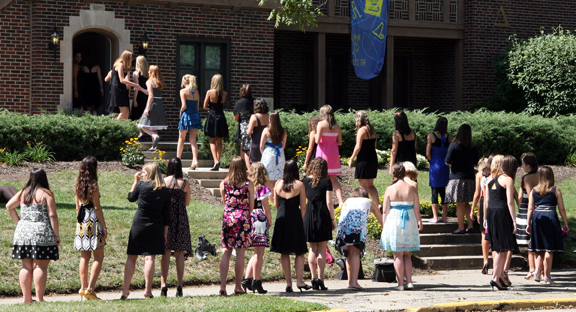 Jake Hartwell
January 18, 2010
Hang on for a minute...we're trying to find some more stories you might like.
In case you hadn't noticed on Facebook, much of campus is engaged in a heated debate regarding Greek Life on the St. Edward's University campus.
Advocates argue that Greek fraternities and sororities will foster the vibrancy they claim our campus is so lamentably lacking. Others allege that Greek social organizations will harm the community, due to their reputation as exclusionary, elitist and often dangerous. The Student Government Association resolution that introduced the argument into campus discourse offers little or no meaning to the terms, so defining "Greek Life" is of utmost importance.
The bill states that "[t]he Student Government Association will investigate the interest in, implementation of, and organization of Greek Life on St. Edward's Campus." The resolution is not a push to instate Greek Life on campus, but is merely supposed to gauge student interest and, most importantly, encourage St. Edward's students to define "Greek Life."
As the St. Edward's community is based on invaluable codes and morals, Greek Life must be compatible with St. Edward's commitment to a meaningful and responsible community. My goal is to outline the implications and limits of the term "Greek Life" on campus in order to assist the campus and SGA in defining it. If the Greek Life mentioned in the resolution falls anywhere short of these specifications, then it must not be introduced.
Fraternities and sororities, if implemented, would not have their own houses, a decision about which the St. Edward's administration is adamant. Greek houses foster irresponsibility and danger and make observing and regulating the organizations difficult by encouraging secrecy. Fraternities and sororities may live in close communities similar to the Living Learning Communities currently on campus, but nothing more.
Arbitrary guidelines may not determine membership—this includes one's beer chugging skills or ability to recite the Greek alphabet while receiving a paddling. Staff and faculty must approve the guidelines, ensuring that they conform to the school's focus on academic success and responsibility and service within the community.
Admission guidelines may not be exclusionary in any way. Admission must be given to the members most capable of fulfilling the approved requirements. Applicants should not be chosen or rejected on the basis of race, religion, academic discipline, social status, financial status or family history. Jimmy Johnson may not be given priority over Jake Hartwell just because Jimmy's brother is a legacy and his father is on the board of an oil company.
All pledges and organizational activities must be entirely public and devoid of confidentiality. Potential members must receive a full disclosure of the tasks they will be required to perform. All pledges and organizational activities must be approved by staff and faculty and encourage members towards bettering themselves in ways that are compatible with the values St. Edward's holds.
All organizations must be self-sufficient. University tuition revenue may in no way benefit fraternities or sororities. The membership fee for joining the organization must cover all costs. Furthermore, a percentage of all membership fees should be set aside to allow free membership to economically disadvantaged students, which would compose 10 percent or more of the total members. This will prevent the elitism and exclusion based on wealth and upbringing that makes many Greek organizations infamous and loathsome.
Members must maintain a cumulative grade point average of 3.0. Following a drop below 3.0, members will be given a semester to exhibit improvement. Lacking this, the assumption that membership in the fraternity or sorority hinders the academic success of the student can be made, and they must be expelled from the organization immediately without a refund of membership fees. Social organizations should never impede the true purpose of a university education, and any signs of such interference must be rectified immediately.
A set and considerable percentage of all organizational events must benefit a virtuous cause. This may include community service, charity, academic assistance or anything else approved by the St. Edward's University Mission Statement. This will assure that St. Edward's fraternities and sororities do not fall into the trap of meaningless social activity without the goals of bettering oneself and making a contribution to society.
Upon violating any of the above rules, organizations would be sanctioned and made to perform service to the community to repair their transgressions. Three offenses would result in the temporary termination of the fraternity or sorority manage the apparent disregard for a meaningful and responsible community. The organization would re-open the following year under new leadership. Multiple cases of termination would suggest that the Greek Life system is irreconcilable with the values of St. Edward's, upon which the entire system should be discarded.
Greek Life can rescue the community from the staleness that advocates assert, is present, but it must be implemented delicately. Far too many Greek organizations cause undesired traits to fester in their members and larger communities. The St. Edward's community is based on admirable grounds; it simply needs to be closer and stronger. The specifications listed will ensure that Greek Life does not lay waste to the unique and desirable qualities of our community.
Greek Life should be desired for the social benefits it can offer to students, not the reprehensible activities that are largely responsible for their popularity. Students advocating Greek Life for the seamy acts that transpire on other campuses should seriously reconsider their stances, because this behavior will never be tolerated at St. Edward's University.