Angers study abroad deadline extended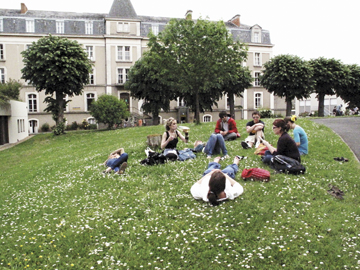 Daniel Garza
November 9, 2009
The application deadline for the spring semester of the St. Edward's study abroad program in Angers, France was recently extended due to slow enrollment.
The Angers program, which is currently in its first full semester, originally required student applications for the spring to be turned in by Oct. 8. That deadline was extended to Oct. 30 to increase enrollment, and also due to marketing internship opportunities that recently became available in Angers for students. There were 13 students that applied for the spring semester program.
International Education Coordinator Esmeralda Hoang said she thinks that these numbers are modest but expected. "We've expected it to be a slow start," Hoang said. "There are 18 students there now, and we expect a similar group for the spring."
One reason for the slow enrollment into the program is the economic pressures both here at home and abroad. Students and their parents are much more aware of the expense posed by study abroad programs, and the instability of the U.S. dollar as compared to the euro make accurate cost estimates difficult to obtain with certainty. The current price for a semester in Angers, France is $15,570, not including airfare or money for food.
Current students in the program that have been surveyed report that they spend about 50 euros a week on food expenses, which is the equivalent to about $75. This adds up to a large expense for students and their parents, however financial aid and scholarships work towards a semester abroad just like any other semester.
"It's important to note that all financial aid applies," Hoang said. "It's as if the student were enrolling in a normal semester at St. Edward's."
All processes and applications for financial aid for a semester abroad are the exact same as for regular semesters at home for reciprocal programs, Hoang said. For other programs through study abroad providers, that is not always the case. Many of the providers, however, will offer financial aid of their own, and there are scholarships students can obtain through the federal government as well.
There are some scholarships available to students that are specific to semesters spent studying in foreign countries, but all regular avenues of obtaining financial aid do not change if a student plans on taking advantage of programs that take them out of the U.S. for a semester.
Despite the high price tag, the program in Angers offers opportunities for students who wish to spread their wings and learn in a different cultural environment. The current fall semester program in Angers has a business school focus. The upcoming spring semester is focused on the School of Humanities, and boasts some interesting courses on literature and creative writing. Chris Flynn, associate professor of Humanities will be teaching English courses in Angers in the spring.
Flynn had designed a program almost two years ago after visiting Paris that focused on American writers and how the time they spent abroad affected their work. To his delight he was selected to teach in Angers during the first humanities focused semester, partly because he already had a lot of the planning and organization for his courses complete.
"The literature course is focused on American expatriate writers and will give students a unique sense of the dislocation from normal life that affected the way these writers thought and wrote what they did," Flynn said.
Flynn, who traveled to Angers this past summer, thinks that this location will help to give students this unique perspective while being separated from their homes and day to day lives. Flynn will also be teaching courses on creative writing, specifically focusing on their personal, past experiences. Flynn hopes that the new culture and environment will help to inspire students to have interesting things and travel experiences to write about.
"Angers is very picturesque, with a lot of physical history. There are many things to see with a medieval feel to them," Flynn said.
This program in Angers has been in the works at St. Edward's for about a year-and-a-half. The professors are selected to teach in Angers after submitting proposals for courses of study that are specific to Angers or the general area. A committee comprised of Deans and faculty decides and approves programs that are usually submitted over a year in advance.
The program is currently structured to offer business-related courses in the fall and humanities in the spring. However, the hope is to include other, and more varied programs in the future. Students who are looking to study abroad for a semester have many programs to choose from. However, the Office of International Education thinks that the program will catch on among students looking to invest in a rich learning experience.
"The Angers program seems like it's more accessible and comfortable for St. Edward's students," Hoang said. "Students in the program are benefitted by having other St. Edward's students and faculty around them and nearby all of the time."
Flynn said that he is excited to be going to Angers for a semester to teach and also said that the program is very beneficial to students in the long run, and any who are able should take advantage of the program in Angers and other programs. The Office of International Education recently held eight study abroad information sessions in less than two weeks.
"As an undergrad, it is the best time of your life for this kind of dramatic move, and it can very literally be life changing," Flynn said.