New courses offered in 2010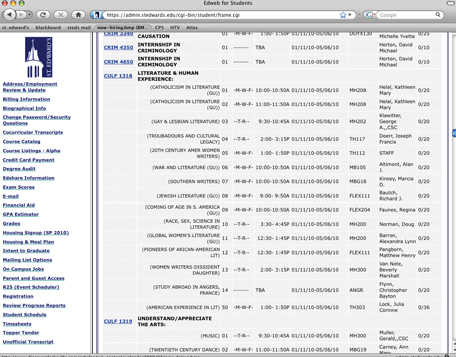 Fremen DeRuvo
November 2, 2009
Hang on for a minute...we're trying to find some more stories you might like.
Undergraduate registration for the Spring 2010 semester begins on Nov. 8 and along with that, St. Edward's University has added 15 new courses to the catalog to choose from.
With the inception of an Art History minor last year, the School of Humanities has been offering new Topics in Art History courses each semester.
Although these classes are listed within the ARTS, students from other disciplines such as history, politics, philosophy and psychology are encouraged and welcome to take these classes, said Mary Brantl, assistant professor. Next semester, two new art history courses will be offered and require no prerequisites: ARTS 3349-01: Modernism's Scream, which deals with visual art at the turn of the 19th century within the context of Freud and anarchist movements, and ARTS 3349-02: Art & Gender.
The School of Humanities will also feature the university's first course devoted solely to the study of Judaism in the spring. Cross-listed as RELS 2342 or RELS 3304, the course will be team taught Kelley Coblentz-Bautch, associate professor, and Rabbi Neil Blumofe from the Congregation Agudas Achim.
Bautch said she is very eager to have Blumofe teach the course because of his expertise and training in contemporary Judaism.
"It is a great opportunity for everyone," she said. "The course will support any student who wants to learn more about Judaism."
RELS 2342 or RELS 3304 both fulfill a general education requirement for students.
Students struggling with the financial management of credit card bills and student loans could consider the course FINC 1332: Personal Finance taught by Amy Burnett, associate professor. She said although the course is within finance, the course is a general education elective.
"Everybody has to take care of their money situation, even if they don't want to," she said. "And this class will teach you how to go about doing that."
At the same time, Burnett said students who find they are particularly in their element might then consider Personal Financial Planning as a career, which she said is one of the fastest growing professions in the United States.
The School of Behavioral And Social Sciences will include new courses of interest to environmental, forensic, political science and even photocommunication majors. FRSC 4349: Topics in Forensic Science: Crime Scene Photography might be of interest to those interested in photography and have an eye for detail and a strong stomach.
POLS 4349: Topics in Political Science: Elections of 2008 & 2010, will also be offered.
Chris Duke, a senior, said the course will be an insightful class under the instruction of Brian Smith and urges all political science majors to take the course in order to understand the moods of the electorate and American people.
"I was really excited that students would actually have a course that was applicable to the real world," Duke said.
The courses GLST 2399, HIST 2399 and POLS 2399 are all cross-listed as the same course, Survey of Africa, which will be taught by Peter Beck.
Patrick Dunlap, a freshmen, who visited to Ghana over the summer, said a conversation with a Holy Cross brother there interested him in getting the real picture of Africa and hopes the class will help him to do that.
Beck lived in Kenya and Uganda for five years and said he has been interested in teaching such a course for a while.
For students looking to satisfy their Science in Depth requirement, the School of Natural Sciences is offering two new BIOL 1305 topics. Douglas Martin will be instructing Biological based Environmental Issues, which will use genetics, evolution and ecology in order to understand various species, biodiversity and extinction, among other topics.
Issues in Urban Ecology, taught by Richard Patrock's, will give students the opportunity to study fundamental concepts underlying ecology and cities and apply the concepts they learned in class on fields trips around the heart of Texas.
"My decision to organize an introductory course around Urban Ecological Issue was based on the assumption that many students have lived in urban settings most of their lives or are now thrown into one in the middle of Austin since they are enrolled at St. Edward's," Patrock said. "I believe that everyone should be familiar with their surroundings and one way to facilitate this familiarity is to be given a guided tour of the terrain."
As registration time nears it's a good idea to "be prepared, have a plan, and a backup plan and be very flexible", urges Academic Counselor, Katy Oliveira.