Pecan street fest celebrates Austin's roots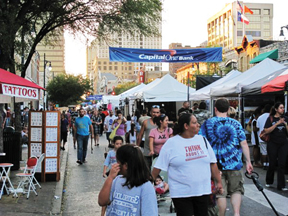 Sharla Kew
October 7, 2009
One thing you can say for the people of dear ol' Austin: the heat doesn't stop 'em.
For the past 28 years, Austinites (and a few others) have been swinging out into the sun to sell their wares, play music, shop and eat. From Brazos to I-35, 6th Street is blocked to motor traffic, and a crowd of people wander through, sipping lemonade and looking at art.
When the city was built, all of the streets that now have numerical names were named after local trees, and the name of the festival is derived from 6th Street's old name, Pecan St. As the largest art festival in Central Texas, over 300,000 people attend, adding $43 million to the city's economy.
The festival also benefits local charities like Austin Boxer Rescue, Friends of the Planetarium and United Care USA, and fundraises for The Old Pecan Street Association, which looks after the preservation and beautification of 6th Street.
White-topped tents line the center of the road, and there you can find just about anything arty for any taste. There is hand blown glass, scrap metal art, tie-dye, paintings, photography, a million dog themed objects, hand puppets, wood carvings and jewelry. Most things are brightly colored, and all of them are unique. Many of the vendors are regulars to the festival and come in both the fall and spring. Most of the wares are hand made, and some are even created right in front of you. There aren't only small business people though. Playstation has a huge air-conditioned trailer with arcade games and prizes to promote their video games.
Many people bring their dogs, and there are many activities for children. A petting zoo featuring a kangaroo, a Ferris wheel and a bouncy castle are among the attractions, as well as people performing roping and magic tricks. Fresh kettle corn, frozen margaritas, lemonade, cotton candy and frozen-chocolate-dipped-cheesecake-on-a-stick are sold, and all the bars and restaurants along the road offer two-for-one drink specials and a place to come in out of the heat.
Live music is an Austin must, and there is a wide range of groups, from rock to flamenco, to listen to. There some fairly large local nameslike Vallejo and Black and White Years playing slots. There are three stages spaced throughout the festival, so you're bound to find something you like as you wander through. There are performing arts groups such as The Clickity Cloggers and The Austin City Showgirls.
This year the festival was proud to announce that it is going green by recycling. Instead of having big trash cans everywhere, there are color-coded bins for plastic, glass, cans, etc. Many people also ride the bus to the festival, which is encouraged.
The next Festival is May 1 and 2 and features a film section and a scholarship competition.