Prall to start as university's next provost in July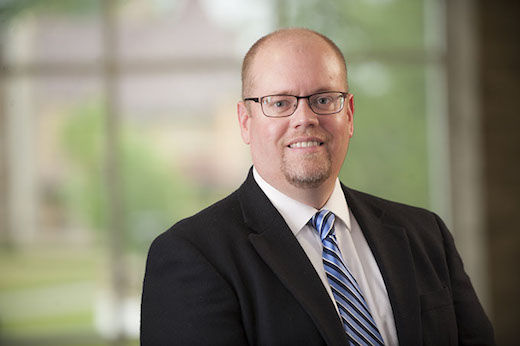 J. Andrew Prall has been named as the university's next provost, ending a months-long search for a role that tackles great responsibility for graduate and undergraduate programs. He will assume the position currently held by Sister Donna Jurick in July.
"I look forward to listening and engaging many different conversations with students, faculty, and staff across campus," Prall said to Hilltop Views via email. "There will always be multiple concurrent priorities at a university as robust and vibrant as St. Edward's."
Prall is currently the vice president for academic affairs at the University of Saint Francis (USF) in Fort Wayne, Indiana. The associate vice presidents for academic affairs, as well as the deans of each school will report to Prall, who in turn reports to President George E. Martin.
The final candidates for the provost position pitched their qualifications at faculty listening sessions earlier this semester. Ultimately, Prall was selected for being an "articulate, innovative and seasoned academic leader who has the capacity to help us accomplish the goals of our university's Strategic Plan 2022," Martin said.
Prall listed his first task as provost as listening to students, faculty and staff. "Therefore, I am unable to outline specific strategies since I will first need to be present on campus and develop a more thorough understanding of the needs of the campus community," Prall said in regards to how he will address the dip in enrollment and retention rates the university is facing.
He added that the strategic plan is an important strategy for the university to focus on. "Some degree of year-to-year enrollment and retention fluctuations are inevitable and may require some adjustments in response…," Prall said.
The strategic plan has focuses in the Holy Cross Community, student experience, Austin connections, and institutional transformation. A goal of that transformation is to "be recognized as an employer that attracts and fosters talented diversity and staff."
Hilltop Views reported in November that the hiring frost at the university has been described as a "cost-saving initiative" and that every hire must be reviewed by the office of the President.
Prall's appointment as provost comes in the midst of the dissolving of New College, a program for degree-seeking adults. His experience in working with post-traditional students includes teaching at the University of Denver's Women's College, along with creating online and hybrid programs at USF with faculty and deans.
Adding that there is not a one size fits all approach to addressing the needs of post-traditional students, Prall said, "I will need time to understand the history of New College, the needs of post-traditional students in the region, and how those needs align with the resources and strategic priorities of St. Edward's."
Other academic changes include the new General Education curriculum to a 44-hour version, and Prall anticipates that the university will identify new program opportunities as they analyze Austin's market and the needs of area employers. He also stressed the importance of a regular assessment of the curriculum. Faculty senate discussed assessments of the new curriculum earlier this semester when a plan for such had yet to be established. English professor Mary Rist suggested that review of the curriculum could involve assessing one part of it each year.
Other responsibilities of the provost include leading academic offices such as Academic Affairs, Global Initiatives, Academic Support, the Munday Library, the Registrar and Sponsored Programs.
With a background in English, Prall said "the abilities to write well, speak well, and think critically are timeless, but they are especially needed in this fast-paced, information dense era. Stressing that technical and creative abilities are useful to students, he added, "There may also be interdisciplinary opportunities for our students to work together across academic programs to promote this cross pollination of technology with the arts and humanities."