Spanish band thrives on playing multiple shows during SXSW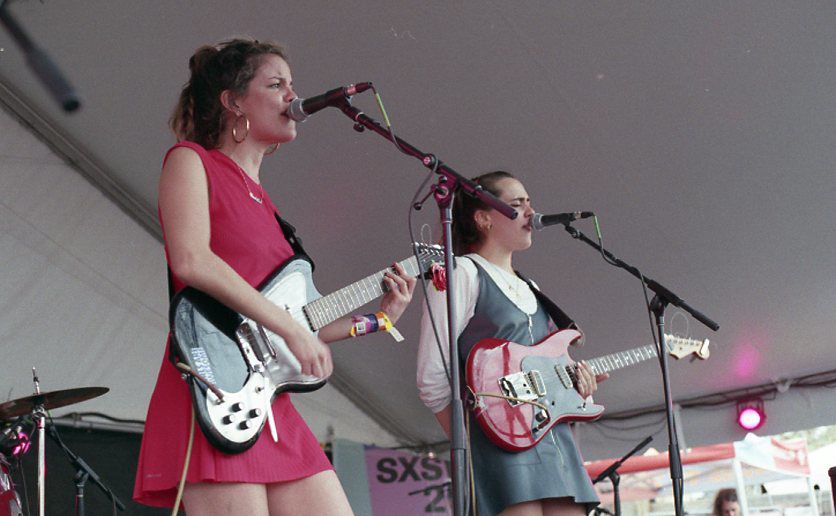 Four garage rockers from Madrid, Spain tell the audience that South by Southwest is their favorite festival to play, and they aren't kidding. This year at SXSW Hinds played 14 shows, which is somehow less than the previous years they have played, the most being 18.
Dwindling down to their last couple of shows of the festival, vocalists Carlotta Cosials and Ana García Perrote apologize to the crowd for their voices, as they currently having some "issues" with it being show number 11 in four days. Even with the amount of shows that these girls have played, they give it their all.
On Cosials' guitar there is a sticker that reads, "Girls are Awesome," which can only describe the band perfectly. Hinds are more than awesome, they are inspiring. They don't complain that they are tired, even though this week they have played almost three shows a day. It seems as if they survive off the work and energy that put into each one. Treating every show as if it is the last time they will ever rock a stage again. They don't act as if everyone is the crowd knows their songs, or even their name. Somehow surprised that people in the audience knew them before the festival.
This year Hinds, is at SXSW to promote their forthcoming album, "I Don't Run," which will be released April 6. Their set mainly consisted of songs from the upcoming album, but that doesn't stop the fans from rocking it out. Whenever they play an old hit, such as "Easy," the crowd goes ballistic. It seems as if everyone in the room is feeding off each others energy.
There is something new that Hinds brings that isn't seen with other bands. They not only have fun on stage, they shred. After one show you fall in love and only want to see them again and again. It seems as if when they talk to the crowd, they are talking to you personally, inviting you on the journey with them.
Hinds are the ones to look out for, they prove how women in music are making a big difference. With a supportive fan base as well as a growing number of new fans, it is easy to want to scream "Viva Hinds" with everyone or even add an "I love you Ana" into the mix. Hinds somehow are able to give even more energy that their fans give off, continuously proving that they aren't ones to mess around with.