Non-profit Jolt organizes pro-voting rally at Capitol
On Wednesday, Feb 28, activists gathered on the front steps of the Texas State Capitol to celebrate the beauty and importance of migration. Dubbed "Migration is Sweet, The Future is Sweeter When You Vote," the event included a butterfly sculpture made of wood, a voter registration table, and free pan dulce, a Mexican sweet bread.
The protest was hosted by Jolt, a non-profit organization whose goal is to inspire young Latinx to vote and become active participants of change.
The piece was, as UT student and activist Berenice Ramirez describes it, a symbol of "survival and migration."
Ramirez led a march to the event along with other UT students and members of Jolt.
"Jolt's overall goal is to organize and mobilize Latinx communities so that they can elect representatives who share their values," Ramirez said. As a Dreamer, she recalled how she applied for DACA as soon as it became official under the Obama administration.
"My mom kept all of our documents since we had gotten here, so the application process was easy. The hard part was the financial toll it took on my family," Ramirez said. "We were scraping pennies but we made it happen, and it has definitely given us more opportunities. To most American citizens, these opportunities are seen as normal, but to us they are luxuries."
In response to President Trump's efforts to take away the DACA program, DACA recipients and those who support them are doing whatever they can to fight back.
Tania Mejia, Communications Director of Jolt, says that " The dreams of young immigrants are not illegal, so we have a huge responsibility to vote in order to defend them."
Jolt ensures that they have voter registration tables at each and every one of their events, not only to encourage change, but to enable it.
"My roommate's brother is a Dreamer, and that situation brought the entire DACA problem into light," said Hibah Shafi, a freshman at UT. "DACA Dreamers contribute so much to the country, and I think it's ridiculous that someone would even think about throwing them out of the country."
Many attendees posed in front of the sculpture with a fist in the air, representing the power the human-sized black, orange, and white wings gave them.
Jesus Valdez, one of the artists of the piece, says that guests could, quite literally, "gain their wings" by standing in front of the piece. Valdez says that the "natural migration" of monarchs inspired the design.
"Monarchs are an integral part of the environment, they pollinate and bring beauty to everything that they touch," Valdez said. "We designed this to be not just something that you look at, but something that you embody."
Valdez believes that Dreamers have, "exposed," themselves by registering for DACA and have, as a result, been exploited.  
"We are being used as leverage to perpetuate laws that continue to make Hispanics feel like we are not here, like we don't belong. We're part of the fabric of America, we are the face of America, and we're the future of America."
Through hosting community events like this, Jolt is determined to spread the word about the importance of the Latinx vote in Texas.
About the Writer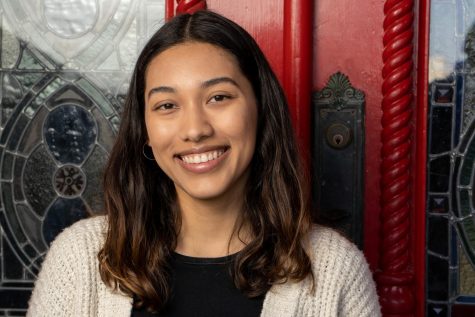 Christine Sanchez, News Editor
I'm Christine Sanchez — a junior Writing and Rhetoric major with a concentration in Journalism and Spanish minor and News Editor for Hilltop Views. I...