'I've got a bad feeling about this': 'Solo' trailer proves hard to read
It's finally here. The first trailer for the new Star Wars movie "Solo: A Star Wars Story" finally dropped on Sunday night. Despite it having a release date for Memorial Day, a day that is rapidly approaching, this is the first footage the world is getting and it is simply a teaser trailer, clocking in at a time of just under a minute and a half.
This would come as a surprise if not for the apparent delay in filming. Even though the project was first announced in July 2015, production came to a halt halfway through the year. The original directors, Phil Lord and Christopher Miller, were fired last June for apparent clashes with producer Kathleen Kennedy over the tone of the movie. Lord and Miller wanted to take a more humorous approach, while Kennedy wanted the humour toned down. Subsequently, Lord and Miller were replaced with Ron Howard.
Another issue plaguing this film's production is the lack of footage released up until Sunday. Fans were worried that this indicated Disney's lack of faith in the movie doing well in the box office. Is the studio perhaps worried about the fans reaction to such an iconic character whose original actor is still alive and well? As seen in the trailer, there is not much footage of Alden Ehrenreich, the young actor playing the titular role. Considering that other recent Star Wars movies released trailers many months in advance, fans might have a reason to be worried.
The trailer itself, while short in length, did look promising. Featuring a star studded cast from the likes of Donald Glover, Emilia Clarke and Woody Harrelson, there is sure to be plenty of interest from fan's of these actors. Again, the audience does not learn much from this trailer besides this very fact of the film having an all star cast.
It does reveal that Han Solo is a pilot who has been kicked out of flight school "…for having a mind of [his] own." The cinematography is quite promising, as it shows some beautiful shots of the Millenium Falcon and the various space races it's sure to take part in. The audience also gets it first look at Donald Glover as Lando Calrissian, a fan favorite. What the trailer lacks in substance, it makes up for in scenery.
The tone of the film is still to be decided, which makes sense since there was so much drama over this issue. Fans can definitely tell it does not have an overtly humorous tone, but more of an adventurous, epic feeling. Is Disney playing it safe by not revealing too much? Are they hoping that fan's will have just enough curiosity to storm the box office come May 25? Only time will tell.
About the Contributor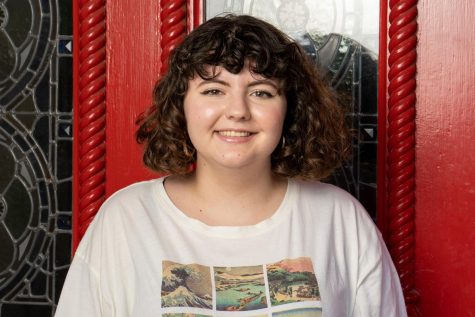 Sierra Rozen, Life and Arts Editor
Hi! My name is Sierra Rozen and I'm the Life and Arts editor. I'm a senior Communication major, with double minors in Journalism and Women's Studies. This...