Students craft pitches to compete in iChallenge on the Hilltop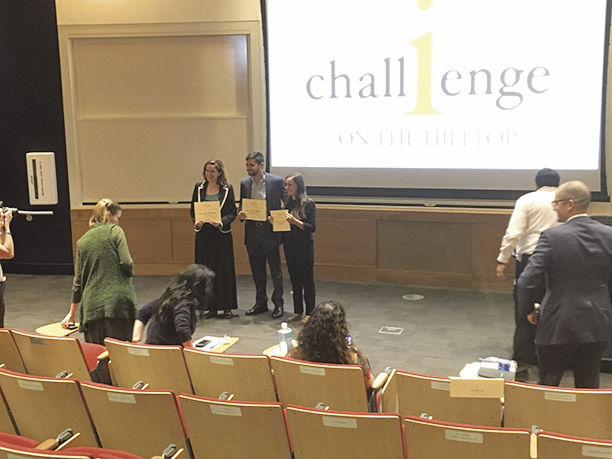 @phipps_kenny
November 28, 2017
Senior Amanda Markoe won this year's  "iChallenge on the Hilltop" competition on Nov. 14. The competition, which was open to St. Edward's students of all majors, consisted of a two-minute pitch presented to a panel of judges. Pitches varied from products, services, startup business ideas and even nonprofit initiatives fit the competition's criteria, like Markoe's.
The top three students were Zoe Bria Landreth in third place, Brandon Oliphant in second and Markoe in first place. Both Oliphant and Landreth pitched business ideas, while Markoe pitched her own nonprofit initiative called "Stop the Flow," which works to provide homeless women with tampons and other feminine hygiene products that they normally lack.
"No woman should have to choose between tampons and food," Markoe said in her pitch.
Each student was timed and many had to be cut off by an administrator. The judges remained silent throughout the competition and gave their feedback to everyone collectively at the end before announcing the winners.
The winner of the competition was set to receive a cash prize and seats at Capital Factory in downtown Austin, according to the description of iChallenge on the St. Edward's website. Capital Factory is a startup incubator that is based downtown and partners with the Munday School of Business to provide students with events and opportunities.
Fifteen of the students were chosen to receive mentoring and extra preparation in an effort to help them refine and expand on their pitches ahead of the citywide Business Plan Competition at Capital Factory in the spring of 2018.
Nancy Schrieber, the dean of the Munday School of Business, told Hilltop Views that the iChallenge event was intended to foster entrepreneurship on campus and provide students with real-world opportunities in conjunction with other similar events such as the 3-Day Startup event in September of this year.
"3 Day Startup was all about, How do I come up with a great idea?" Schrieber said. "[iChallenge] was all about, How do I pitch this great idea?"
The focus of iChallenge was to help students understand the performance aspect of pitching business ideas to investors. The atmosphere in Carter auditorium reflected this; the room was mostly silent throughout, with undivided attention going to each student as they presented their prepared remarks.
"It's about, in two minutes can you sell your idea?" Schrieber said of the competition. "It's about how you present, your voice, tone, do you have a great story?"
However, the performance of the pitches is still secondary to the actual content itself, according to Schrieber. "Is this a business that there's a real market need for?" Schrieber said. "The judges are looking for all of those things."
Schrieber's assertions were reflected in the feedback of the judges. Many of them addressed the apparent lack of revenue streams that many pitches had, in addition to acknowledging that, as one judge stated, "Public speaking is really hard."
Miguel Barvosa-Martinez, a senior philosophy major, pitched his idea to create a system to reclaim the energy lost during Bitcoin and Ethereum mining. Barvosa-Martinez stated that he was drawn to this idea during research for the event and his drive to protect the environment. He also mentioned that his background in stand-up comedy helped prepare him for the performance of his pitch.
"This two-minute pitch kind of thing is quite a difficult task," Barvosa-Martinez said. In addition to the panel of judges, the room was full of an audience of the other students competing, which was something Barvosa-Martinez said he didn't expect. "This was a challenge for me. This was difficult."