OIT waiting for final feedback before introducing second phase of G-Suite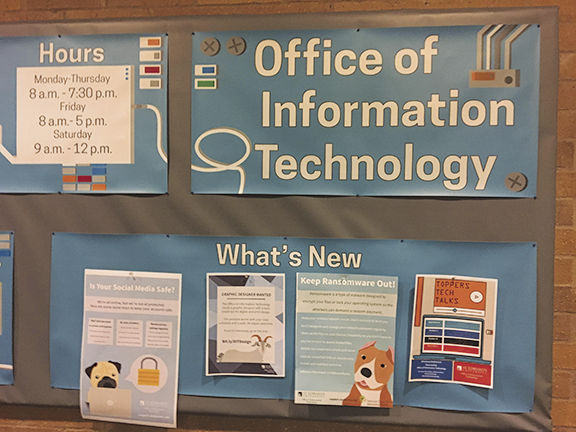 Henry Anthony-DuScheid
November 6, 2017
Hang on for a minute...we're trying to find some more stories you might like.
Since the release of Google Suite to the St. Edward's community in August, the transition from Zimbra has been a welcomed change.
Professor Billy Earnest said that he, "hated Zimbra," and has appreciated the ability to manage all his email through one source. Nicole Hill from the Office of Information Technology say this was a much needed change as, "[Zimbra] was becoming more and more unreliable."
St. Edward's students have been getting used to shifting between email accounts and sharing their personal email with peers to collaborate on documents.
This is the outline of the Gmail rollout as planned by the Office of Information Technology: Phase one includes the releases of Google Email and Calendar as of the August time table. The Information Technology Team looks to receive feedback for the second phase that is planned for the Fall Semester, which was tentatively scheduled for the end of October.
OIT is working as hard as they can to push through the features, but many offices around the university are also part of the checks that need to happen before they are rolled out. They want to have this technology available too. While it may feel like a waiting game, concerted effort is made to get Google Drive delivered to the masses.
While document sharing security has held up the release of Google Drive, similar features to the G Suite services are available via Box. The services that box provides are on par for sharing, but are seldom used by students to send documents back and forth—instead they tend to use email attachments or even just pasting in the text.
Following up with OIT to learn when these second phase features would go live, the risks of security was the utmost factor for getting the new features to St. Edward's. These security measures are in accordance with Federal protections of users data like Family Educational Rights and Privacy Act and Health Insurance Portability and Accountability Act both serve to maintain protection of individual's data against hacks. Major breaches of individual's data have been in the headlines throughout 2017, such as those to Equifax or Yahoo, show how important these types of checks are today.
Security issues are not unique to St. Edward's and OIT has looked at other universities like University of Notre Dame and Stony Brook University who have implemented G Suite. Another issue is that Google is a massive company and cannot always directly work with to smaller schools/companies that utilize their products.  
Right now, the goal is for the second phase to be launched by the end of this semester with phase three releasing sometime next semester. The third phase includes Google Hangouts and Classroom.