Literature professor demonstrates harmonious music of language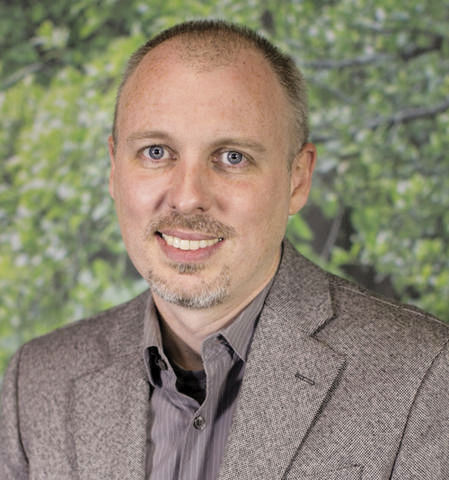 Professor Brian Sheerin is an Associate Professor of English Literature at St. Edward's University. He was born in Pensacola, Florida, but lived most of his life in Chicago before moving to Austin to teach at St. Edward's.
Sheerin originally earned his Bachelor of Music degree in Organ Performance from Wheaton College, but changed course in graduate school and ended up with a PhD in Literature from the University of Illinois; but why English Literature?
"My favorite part of English Lit is discovering how so many ideas and words we now take for granted had their roots in specific texts that we can now revisit," Sheerin said.
Within English Literature, he started off studying Romanticism, but was drawn toward Milton before settling on Shakespeare. The last of which is what he specializes in now through the classes he holds e.g. Shakespeare Histories and Comedies.
"What drew me to Shakespeare was my awesome graduate adviser," Sheerin said. "She taught me how to see a world of conflicting ideas in every play."
Sheerin is an animated teacher that is admired by his students, making every class an enjoyable learning experience. On asking why he teaches, Sheerin replied that he is so excited about what he reads, and explained that teaching is a beneficial way to talk about it.
"I really enjoyed the seemingly unstructured, conversational format of his classes that appears to promote individual thought and unique interpretation rather than to lead students to one formulaic answer," said Cassie Cotton, a former student.
Classes with Sheerin are known to be a positive and engaging experience. He finds a way to make the topics interesting and understandable through taking the time to introduce the historical background of the literature he covers. His students truly benefit from his thoughtfulness and patience.
"Even when he's critiquing work, he does not come off as judgemental. You can tell he really cares about his students' progress," said Sarah Baluta, a current British Literature I student. "A bonus is that it's clear he is very passionate about what he teaches."
Along with his extensive library (a.k.a his office) of English literature, Sheerin enjoys collecting and playing historical board games. He finds that they are an interactive way to learn about the world and are much more engaging than simpler games. His reading guilty pleasure is sci-fi books, but he is currently reading "The Lord of the Rings" trilogy to his children.
Sheerin is known to be a critic of movies by his students, but when asked about his criticism of movies he shows in class, he admits that there is something good in almost every movie. He finds that through watching historical or literature-based films, there is a way to observe how our culture interprets the events and works that are exhibited. There's always a chance to learn about a different perspective than our own. He is currently watching "The Hollow Crown: The War of the Roses" featuring Benedict Cumberbatch and Judi Dench.
Sheerin has recently published a book titled "Desires of Credit in Early Modern Theory and Drama: Commerce, Poesy, and the Profitable Imagination." It concerns studies in performance and early modern drama. The book is something substantial that he is proud to have accomplished and if anyone wishes to look into it, it is available at the Munday Library.