Google doodle honors Selena Quintanilla's unabating legacy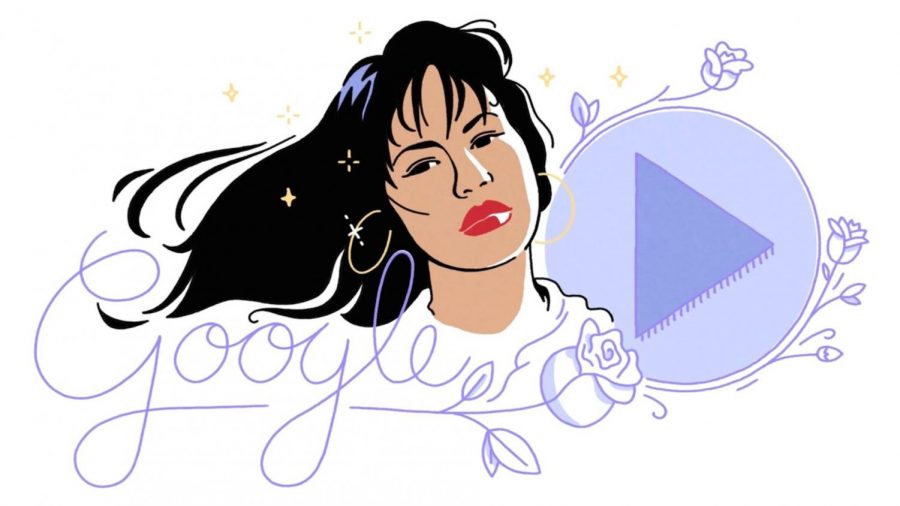 @jovahanaa
October 28, 2017
Selena Quintanilla's murder in 1995 left the Latinx community with a heavy heart and a deep rooted sense of loss. People traveled thousands of miles to visit her home, boutiques and crime scene, while churches with large congregations of Latinxs held prayers in her name. However, 22 years later the "Queen of Tejano Music" continues to be spoken of as if she were still alive today, but remembered if she passed just yesterday.
This past October, Google recognized her legacy through a doodle. The doodle and exhibit launch, according to the team, "was not only as a way to celebrate Selena's life and the dreams she achieved, but as a tribute to Selena's fans around the globe." The project serves a testament to the power of her legacy, which continues to empower the Latinx community to this day.
According to Perla Campos, Google Doodles Global Marketing Lead, "Selena became a beacon of inspiration and hope for the Latinx, immigrant, and bicultural communities around the globe." As a Latina herself, Campos related to Selena's story and admired her perseverance. "Her story of embracing and celebrating all parts of her cultural heritage and persevering in the face of adversity forged an emotional connection with millions," Campos said.
The Google doodle pulled on a few of my own heart strings and reminded me of my own upbringing as a first-generation Mexican-American woman with immigrant parents. To refresh my memory, I sat down to watch the hilarious, touching and heart wrenching movie about Selena's life and death.
Time and time again, I recall the emotional connection that I grew up having with Selena Quintanilla. Even though I was born in 1996, a year after her passing, I can recall more times that I listened to Selena's music in my life than I can any other artist. I remember growing up asking myself the same questions Selena asked her parents as she attempted to navigate her cross-cultural identity. I can see myself begin to understand, similar to Selena, how to define my own success separate from any negative narrative that I see on the media towards immigrants and Mexican-Americans.
Growing up with my identity, there weren't many positive figures to look up to for inspiration in any industry; much less the entertainment and music industry. I recall a time in high school when I was told to write a paper about a leader who inspired me, only to end up writing down Thomas Jefferson, a white, privileged male. There was fault to my education and who I was being taught to idolize. However, Selena had always been a figure of inspiration, but it wasn't until after high school that I began to internalize the impact of her legacy on my own life.
One of the most prominent reasons Selena continues to be an icon, is because she was one of the first positive representations of the Latinx community in American media; it was representation that wasn't a maid, a sexy side-kick, or a wife. Selena shattered the glass wall that was the normative expectations of the Latinx community, more specifically Latina women, in the music, entertainment and business industry.
Similar to Selena, I was juggling two identities in one body. Selena's father, Abraham Quintanilla, said it best, "We have to be more Mexican than the Mexicans and more American than the Americans, both at the same time! It's exhausting! Nobody knows how tough it is being a Mexican-American!"
Selena seamlessly balanced a tremendous career in two cultures. She was one of the first artist to release highly successful Spanish and English albums. Even though Selena's primary language was English, she sung in both English and Spanish. However, her persistence and determination to uphold her culture through language was what captured her audience, including myself.
Today, just days after Google paid tribute to the life of Selena Quintanilla, it was announced that the late singer will be receiving a star on the Hollywood Walk of Fame. Selena Quintanilla changed the music and entertainment industry in many different ways. From becoming the first Tejano artist to win a Grammy to inspiring many of today's icons such as Gina Rodriguez, Jennifer Lopez and Eva Longoria, her legacy continues to thrive despite her absence.