Mask Off: Community project brings awareness to mental health
Students gathered for their last opportunity to create paper masks that reflect their mental health concerns to be exhibited on World Mental Health Day. The Health and Counseling Center is hoping to bring awareness to mental health through the Inside Out Masks Project. The HCC, along with the Equity and Justice Council, has been hosting creative workshops where students can craft paper masks that are representative of personal struggles with mental health and identity.
The art exhibition will debut on World Mental Health Day, Oct. 10 in Maloney Room from 9 a.m. to 3 p.m. Other events for Mental Health Week will include a relaxation pop-up and an introduction to forest bathing excursion.
Jenna Parro, a wellness and outreach coordinator at the university counselling center, says the purpose of the project is to provide students with an opportunity to express themselves and open up a conversation that can be uncomfortable, while also building awareness throughout the community.
"A lot of people struggle with mental health concerns," Parro said. "Anxiety and depression can be really high in college campuses."
Anxiety is the highest mental health concern for college students at 41.6 percent followed by depression at 36.4 percent, per the American Psychological Association.
"It is an invisible disease," Parro said.
The project was inspired by a similar effort for veterans dealing with PTSD. Sophomore Lilli Hime spearheaded the project and pitched her idea to Parro as well as the Equity and Justice Council, who were more than happy to organize the community project at the university.
During creative workshops, students had the chance to decorate their own paper masks with their own interpretation of their mental health. Participants were also asked to write the meaning behind their mask as well as their ID rather than their name to keep the projects anonymous.
The masks will be assembled for a mural to be premiered during Mental Health Week on Oct. 9-12 to promote the expression of mental health concerns.
Melina Bravo, Executive Director of the Equity and Justice Council, describes the project as  allowing people show the full picture of their lives rather than the "cropped out Instagram post."
"It is not the cropped out the picture of the croissant and Jo's coffee," Bravo said. "[The masks are like] is needing that coffee because you stayed up late stressing out about homework."
Bravo also emphasized the importance of starting the conversation of how different people, especially those in marginalized groups, can experience mental illnesses differently.
"Like how Black mental health look like compared to Latino mental health," Bravo said.
As for why they chose such a creative project, Parro said, "There is evidence that artistic expression can build empathy."
"We are hoping that students gain experience and healing through creative expression," Parro said.
Similarly, Bravo stressed the importance of the variety of outcomes possible through such a creative process.
"It is important to see solidarity on this campus of different ranges of emotions and how we see ourselves," Bravo said.
Parro said the next steps would be just to continue the conversation and to keep having community projects like these on campus.
"I hope to see us build beyond this," Parro said.
About the Writer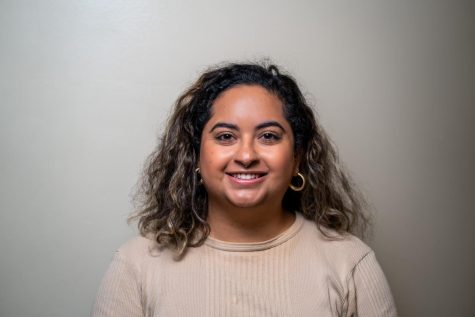 Myrka Moreno, Social Media Editor
I am Myrka Moreno - Digital Media Management, Journalism minor and Social Media Editor at Hilltop Views. This is my senior year at St. Edward's University....