5 comedies to binge on Netflix over spring break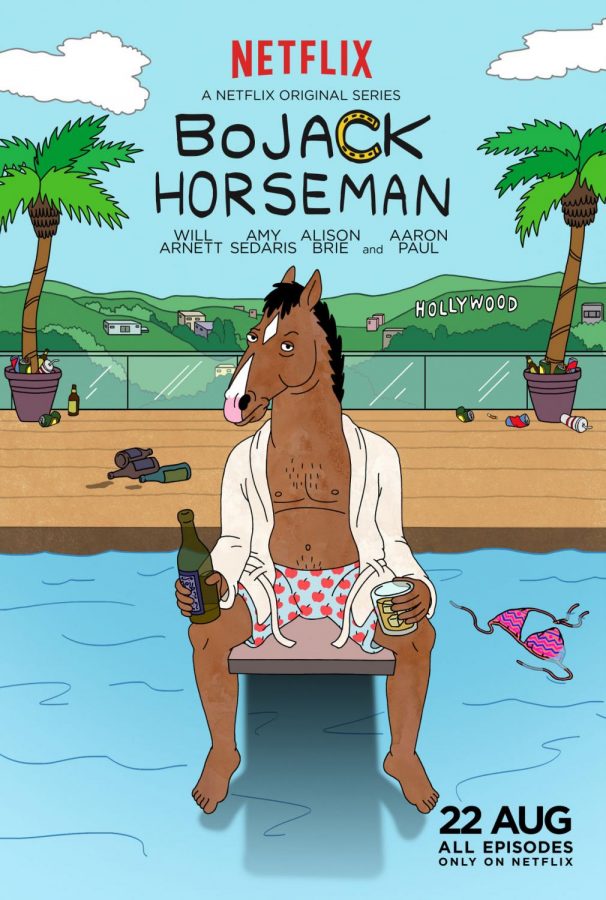 @drfunkenstein12
March 6, 2017
With Spring Break just around the corner, here are a couple of suggestions for your next Netflix binge.
1.) "Love" is a Netflix original series that follows Gillian Jacobs and Paul Rust playing characters who after meeting at a gas station begin to date. The series is only a season long, with the second being released March 10, just in time for break. The series takes a look at dysfunctionality of modern day romance, and how broken people can try to break away from terrible habits. The series is produced and co-written by modern rom-com expert Judd Apatow, and tries to examine dating from both the male and female perspective.
2.) "Bojack Horseman" is another Netflix original show, currently out with three seasons. It is an animated show starring Will Arnett, Aaron Paul and Alison Brie. Arnett stars as the titular Bojack, a '90s sitcom actor who has pulled away from the world. The show is one of the finest comedies of today, juggling both absurd humor with touching and deeply emotions topics such as depression, addiction and asexulatiy. The show is willing to switch from wild drug trips to dialogue-less episodes without a second thought. The three seasons are just as able to break your heart as they are going to make you laugh.
3.) "Comedy Bang! Bang!" is a five season series that follows comedian Scott Aukerman play a fictional version of himself, parodying the style of late night talk shows. The show uses both absurdist and referential humor in order to play with the conventions of the talk show. The show also manages to gather famous celebrities as guest, some playing themselves, while others play as fictional people. "Comedy Bang! Bang!" likes to play with its structure and uses movies like "Die Hard" and "Back to the Future" in order to tell fascinating and hilarious mock stories.
4.) "The Unbreakable Kimmy Schmidt" is the third and final Netflix original show on this list. Created by Tina Fey, the show follows Ellie Kemper as a former cult member, who is thrust into modern day New York. Due to being locked in an underground bunker at a young age, her character is stuck in a younger frame of mind. She is flocked by Tituss Burgess and Carol Kane, her roommate and landlord respectively. With two seasons on Netflix, and a third on its way, the show is another hilarious look on how people who have lived through deep traumas interact and experience the world.
5.) "Don't Trust the B—- in Apartment 23" is a sitcom starring Dreama Walker, and follows as her character moves from the midwest to New York, and after finding out her dream job is the front for a ponzi scheme is forced to move in with a party girl, played by Krysten Ritter. Rounding out the cast is James Van der Beek, playing a fictional version of himself. The series sees Walker's character adjusting to living in the city, and having to leave the naivety of the midwest behind, while creating a friendship between the three characters.