Down with scaffolding, up with Pavilions: Campus construction progressing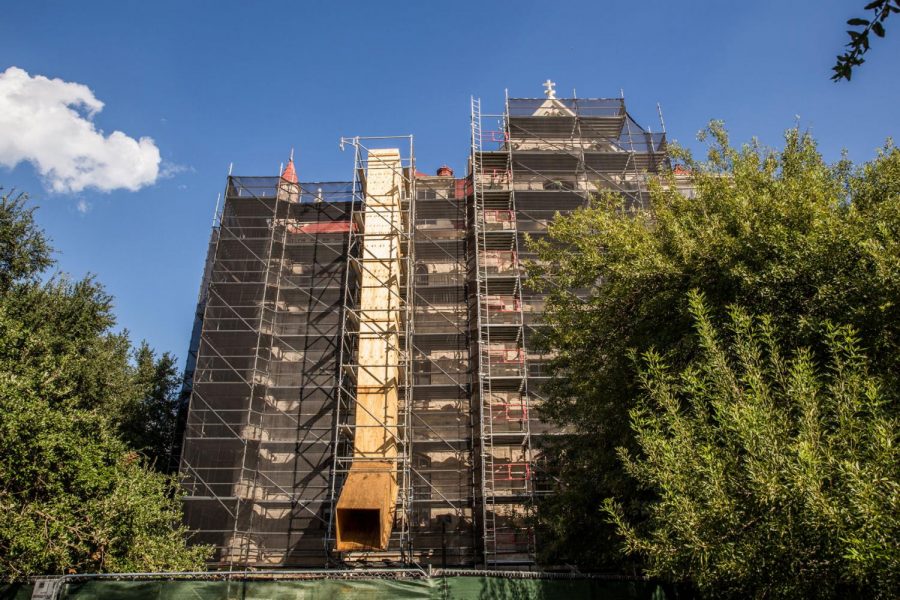 The long-awaited Pavilions Residence hall is opening this Fall, but concerns about delays still abound. Christopher Johnson, associate vice president of master planning, said everything is on schedule and that no one should be worried.
"Things can always happen, but all our contractors for our big projects are saying they will have it done before the [Fall 2017] semester starts," Johnson said.
The new upperclassmen dormitory is set to house 436 students, as well as 12 resident assistants and two professional staff members. The Pavilions will include a "Grab 'N Go" dining area instead of the Village's Hunt cafeteria. The purpose is to encourage students to cook for themselves in their dorm room kitchen, according to Johnson. "It's more apartment-style living."
Apart from the dorm hall, there are a few additions that will soon be finished as the 2011 master plan reaches its finish line in May.
Part of the scaffolding on the front of Main Building came off recently, revealing clean stone and new roofing. Main Building, as well as the new operations building will be finished in April, said Johnson.
The operations building will be the new location for St. Edward's University Police Department, facilities, copy center, post office, campus safety, master planning and construction and purchasing.
"We need those facilities in order to take care of the campus, but they don't necessarily need to be up on the hill," said Johnson.
Instead, the new building will be downhill, next to the fine arts building and the lower soccer field. The location sparked some controversy with the Sherwood Oaks neighborhood, out of concern that the 18-wheeler trucks that will drive on neighborhood streets to make deliveries and other services to the operations building. Back in August, the residents held a "stroller protest" to show their opposition.
The master plan committee will hold a forum this month "to give them an opportunity to share their thoughts and concerns," said Johnson. While the university cannot "accommodate everything," they are committed to maintaining a strong relationship.
While this master plan wraps up in April, a new one is already in the works. There are already a  few things on the agenda. Facilities for athletics and theater arts will progress, according to Johnson.
Parking has been a prevalent issue for students and surrounding neighborhoods, as many without permits park along St. Edward's Drive. "Parking is not necessarily where we need it, and that is one thing the master plan needs to look at. We have huge areas of parking that are not used and we have other areas where parking is overflowing."
"If we could just maintain the areas that are beautiful and then work on some of our areas that are not so pedestrian friendly. Just make it so wonderful, from a pedestrian standpoint," he added. The goal would be to make campus so pleasant that students would not mind walking or riding a bike from a far parking space.
Although concerns of delays cannot be completely dismissed, Johnson says everything is coming together and very little was not accomplished. "Quite a bit of the envisioned goals were actually achieved," said Johnson. "It says a lot of Dr. Martin's leadership."
Before the semester ends, students can expect to have a new operations building up and running. They will return in the Fall to freshly completed living facilities and a lot to explore.
About the Contributor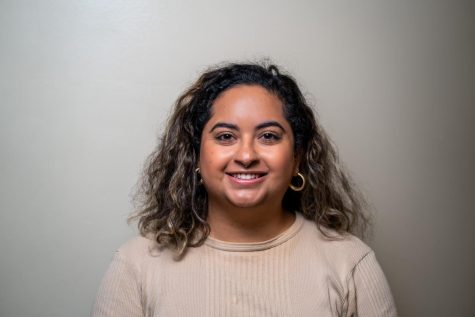 Myrka Moreno, Social Media Editor
I am Myrka Moreno - Digital Media Management, Journalism minor and Social Media Editor at Hilltop Views. This is my senior year at St. Edward's University....