Dean of the School of Education shares life story, discusses plans for department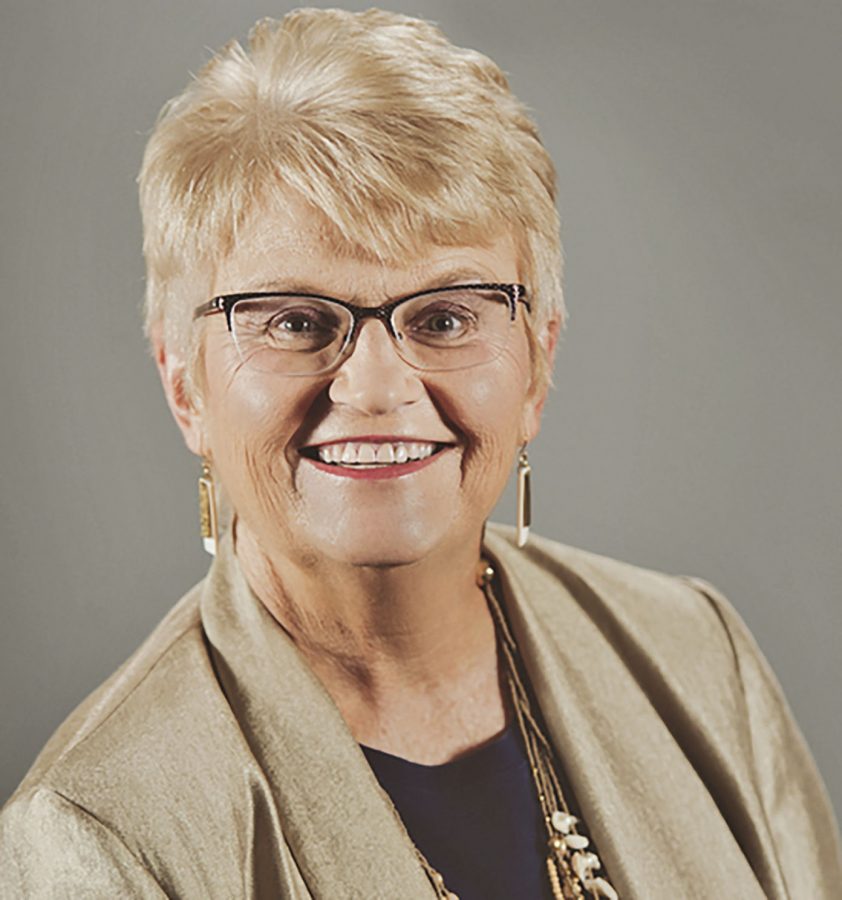 Ashley Walker
February 6, 2017
Dean of the School of Education, Glenda Ballard walked with her head high through the loss of her husband in early July of last year.
She talked about her fear of arriving to Austin on her own, and how the support of her children helped guide her through. We sat in her office, doors closed to the outside world as Ballard recounted her story.
Ballard isn't a stranger to Austin. Her husband worked in Austin as a lobbyist and her children attended the University of Texas.
"It was my time to take on Austin," Ballard said.
A passionate, first generation college student dedicated to helping those in need, Ballard worked at "Breakthrough Austin," an organization that aids first generation undocumented students. Because of her husband's job, Ballard has lived across the nation.
In addition to aiding good causes, she enjoys playing tennis, reading, traveling and admiring strong women.
Ballard speaks with a thick drawl, a product of her upbringing in East Texas. She obtained two degrees from Texas A&M University-Commerce with a Bachelor's of Science in English/Student Personnel and a Master's of Science in Student Personnel & Guidance.
Her teaching career began with her first stint as a high school teacher. After teaching high school for four years, she moved on to higher education.
"That one decision changed my life," she said. "I never went back to K-12."
A faithful educator, Ballard taught adult english language learners and continued to teach at a community college. She began to study the development of incoming freshman as they transitioned from high school to college. She decided that since she was teaching higher education, she would serve her students better by pursuing her Ph.D..
Choosing to stay at home, Ballard's life took another turn. In 1990, she and her family moved to Washington. She taught part-time, became president of the parent teacher association at her children's school and obtained a Ph.D at Virginia Tech.
"In my time as an educator, I have looked at and been exposed to different settings. I have looked at education from almost every [angle] I can think of," Ballard said. "I was a mother, a PTA parent, an educator for both K-12 and community college, a faculty member of a private institution and a student."
Ballard was elated to be on a board because it gave her another perspective as an educator. Even now, she is always dedicated to learning and crafting her understanding of the world.
"My job here is to enable the faculty and students to succeed…I am a servant leader," Ballard said. "I would not ask you to do anything I wouldn't do myself. The faculty here are so passionate about their work and their commitment to this university. This is unique. In my personal experience, I have not seen that at any other program."
Having been the dean of education for just over a semester, Ballard has already been paving the way for fundamental changes at the school.
"I have been doing a little bit of shaking up because our numbers have diminished in education and we need students," Ballard said. "We need students, but we also need those who are inspired to be teachers."
She granted faculty full range to make the school "more user friendly," Ballard said.
"The degree program for an education major is extensive. Unless summer courses are taken, it usually takes up to five years to graduate," Ballard said. "Making the department easier for students to gain their degree isn't a new concept."
Ballard explained that typically in the liberal arts and humanities, "well-rounded college students" walk across the stage on graduation and are lost. Entry-level positions are often difficult to obtain, as the job market is highly competitive.
"Education could be a beneficial entry-level occupation and you can learn a great deal while teaching children," Ballard said. "Now that's antithetical for my profession because we are supposed to create teachers for life."