From minority to majority: Female students mark 50 years at St. Edward's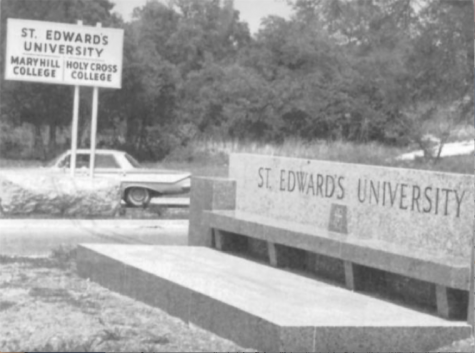 East Hall is celebrating 50 years of existence as a residence hall, and its first residents were trailblazers. Named after Alice Kleberg East, who provided construction funds, this residence hall housed the first female students of St. Edward's University half a century ago.
In 2008, Kathleen Wilburn, associate professor of management, published a book "Maryhill College for Women: Catalyst for Change," which documents the integration of Sisters, Servants of the Immaculate Heart of Mary (IHM) onto campus grounds in the 1960s.
Her inspiration for writing the book came from looking at photographs from that time period with Amata Miller, IHM, who has served on the Board of Trustees for decades, and previously was a professor of economics and statistics in the 1970s.
"Sister Amata sighed and said, 'It's really sad, because it's part of St. Edward's history, and it will never be told' … and I thought well, I could write a 20-page paper and put it in the archives," Wilburn said. "Two years later, it ended up being a book at St. Ed's."
As the Civil Rights Movement initiated various laws granting women and minorities a college education, St. Edward's explored its admissions options to increase the amount of federal funding the university would receive for aligning with the coordinate education model of inclusion.
In 1964, University President Raymond Fleck wrote letters to multiple orders of religious women who could be interested in helping to administer and teach higher education to women.
Fleck wrote in a letter dated March 11, 1965, saying a women's college of St. Edward's would "fulfill a real need for Catholic higher education for women in the Central Texas area," where they could "pursue additional graduate work at the University of Texas."
After much negotiation and planning, Sister Marie Andre Walsh and the IHM officially accepted the invitation to staff the women's college at St. Edward's on June 8, 1965.
Prior to this time, only men received a higher education at what was known as Holy Cross College. In the fall of 1966, the first female class of simply 75 women were separated into the new Maryhill College. Both coordinate colleges were officially under the St. Edward's University name, but one was well-established and the other was not.
"These girls were now down the hill [at East Hall] competing with guys [of Premont] when they didn't have enough money to have the kinds of organizations that a coordinate college actually had," Wilburn said.
Studying mostly teaching and nursing, the women were cared for by five nuns of the IHM, which can be thought of as a female equivalent to the Congregation of Holy Cross. The administration center for Maryhill College was located on the first floor of Sorin Hall, and the Sisters lived on the second floor, similar to how the Brothers live in St. Joseph Hall.
"The Brothers were open to change," Wilburn said, referring to their motto: Walk by faith, not by sight. "They recognized that they would have to accept women, and they weren't willing to let the mission of education die."
Although the men and women technically attended different colleges, all students shared classes because that was the more feasible option than having separate faculty to accommodate the small student size of women.
Wilburn's book includes stories of panty raids and other challenges the community of women faced.
Headlines from The Hilltopper (presently Hilltop Views), suggest the women were not welcomed by their male counterparts, who felt these ladies were "invading" their campus.
Wilburn can relate to this notion of fortitude the women must have felt when she too was discriminated against while applying for a graduate assistantship to earn her master's degree in English at her alma mater the University of New Mexico.
She challenged her dean's remarks about her being in college only to find a husband, reminding him of federal laws that said he couldn't discriminate against her for being a woman.
"I think back to that, and I think back to this," Wilburn said, holding the book in her hands. "The girls pushed back a little bit, realizing that education wasn't just for men. They could choose what they wanted to do in life."
The Maryhill College women persevered, and in the spring of 1970, the first, and only graduating class of women received their diplomas — two in fact, one from Maryhill College of SEU and another from St. Edward's University.
Wilburn says that by this time, "women had become accepted on campus," and there was also at least one woman serving as an editor of The Hilltopper.
By the 1970-1971 academic year, there were no longer two coordinate colleges, but rather the coeducational institution known today.
This integration of women students paved the way for other educational endeavors, such as the MBA graduate school program (1970) and the CAMP migrant student assistance program (1986).
In response to the passage of Title IX, St. Edward's Athletics expanded to include scholarships for women, as well. Volleyball and basketball were introduced in 1974, while softball formed in 1989 and soccer in 1990. Tennis came in 1999 and golf in 2003.
Fleck's founding letters indicate he believed the enrollment number of female students would "eventually reach 800," which was about one-third of the student population of the 1960s. Five decades later, women make up 61.5 percent, nearly two-thirds, of the total 4,237 student population.
"No one understands how difficult it really was for women to be accepted in colleges and universities," Wilburn said. "Without Mayhill College, St. Ed's might not be here today."