Thank Your Lucky Stars: Astrology app charms users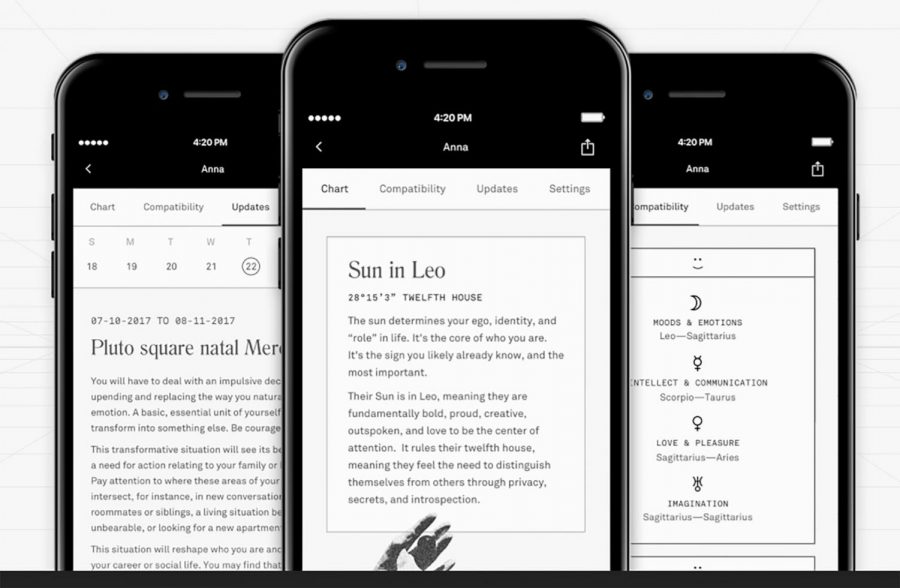 Reilly Cardillo, Writer
September 17, 2018
If you go to St. Edward's, you have inevitably heard this question: "Yeah, okay, your birthday is Oct. 8, but what time were you born and where?"
For those out of the know, this specific query is a well-known prelude to the creation of a natal chart, a precursor to what could expand into an hours-long conversation about what exactly it means to have your Saturn in Cancer or why it's tragic for your moon sign to be Pisces.
Confused? Enter: Co — Star. This free application not only creates your chart for you, but it also provides lifetime insight as well as everyday horoscopes and advice. All you need to know is your birthday, your time of birth and your location of birth.
A natal chart is a comprehensive zodiac run-down, encompassing your sun sign (the one decided by your birthday that most folks know already), your ascending sign, your moon sign and a whole host of others. These latter ones can be more esoteric to a general audience.
Though astrology may initially seem confusing and vapid to some, making sense of these charts can be a vital tool for those looking to better understand themselves. Even though these charts are such a universally interesting exercise, it is difficult for newcomers to get a handle on all the terminology and interpretations when the possibilities seem as endless as the stars themselves.
There are two main functions of the application: your personal chart equipped with updates and a compatibility resource linked to your contacts which is obtained either through Facebook or your smartphone.  
The first function is created for you when you join the application. It leads you through each planet or house, tells you which sign it is in and goes into further detail about what that actually means for you.
In terms of interface, this region of the application harbors brief copy to avoid overwhelming the user. It also incorporates original illustrations that add depth and intensified meaning to each section.
The second function is only accessible when you add friends on the app. Once you have names in your contact list, you are able to see not only their chart and daily updates, but they measure compatibility by several facets as well, namely: "Moods & Emotions," "Intellect & Communication," "Basic Identities," "Sense of Responsibility," "Love & Pleasure," "Sex & Aggression" and "Philosophy of Life."
The interface in this function is more layered, as compatibility readings are more complicated, but still remarkably easy to use. The aforementioned facets are separated into three levels of agreement marked by a smiley face, an ambivalent face or a frown face. You can click on each section for more details, and the app will jump you down to the short paragraph explaining the emoticon verdict.
Co — Star is easy to use, and it is a great resource for novices and sages alike. But if you don't like it, you're probably a Scorpio.