Students react to Nike protest advertisement campaign featuring Colin Kaepernick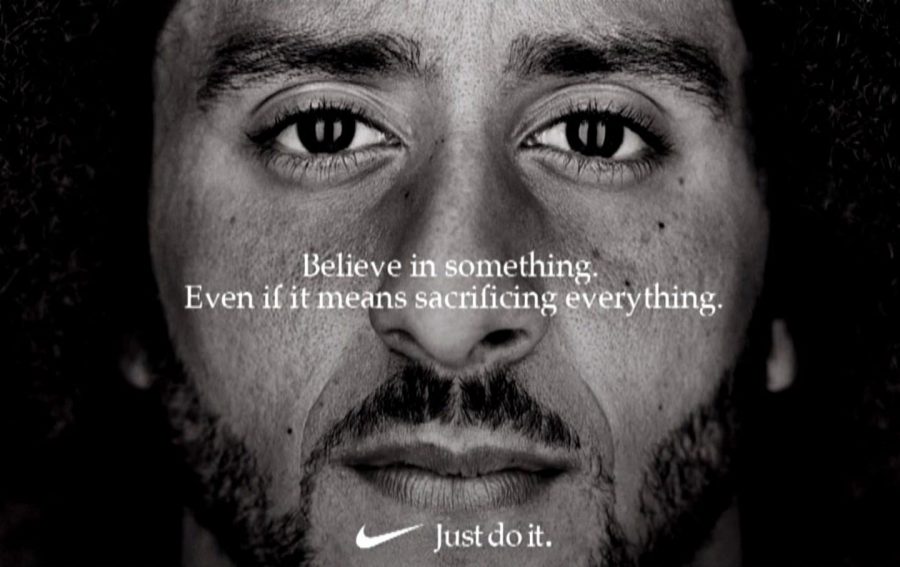 Nike has jumped back into the national anthem debate with their new "Just Do It" ad campaign featuring former San Francisco 49ers quarterback Colin Kaepernick.
During the beginning of the 2016 NFL season, Kaepernick was seen on the sideline kneeling during the National Anthem; protesting police brutality against the African-American community. This sparked a national debate over whether or not Kaepernick's actions were disrespectful. Those who say they were cite that brave men and women in the military give their lives every day to protect their flag and country. Those in support of Kaepernick cite many different reasons, including freedom of speech.
Some students, such as James Russo, a junior criminal justice major, are sympathetic to Kaepernick's protest.
"A lot of people will say that you are disrespecting the flag you are disrespecting veterans by kneeling and desecrating the national anthem," said Russo. "But really, those people are disrespecting what's great about being an American, the right to protest; the right to fight for something you believe in."
"There is a group of people who that flag and freedom and liberty for all have not been honored for them for 100, 200, 300 years," said Russo.
In 2014, African-Americans constituted 2.3 million, or 34%, of the total 6.8 million prison population, and African-Americans are incarcerated at more than five times the rate of whites, according to an NAACP Criminal Justice Fact Sheet,.
"You have a group of people who have been marginalized and systematically oppressed especially through disproportionate arrest and police violence and other factors throughout history. Even if the problem isn't the police, you can't change they are the ones who are usually found put into these situations. He's called attention to an issue," continued Russo.
Because of the kneeling, he has been "blackballed" from the NFL: no team has been willing to sign Kaepernick to a contract.
While other NFL players have followed Kaepernick's example by kneeling during the national anthem, there are no actions taken against them like blackballing them out of the league, firing them or benching them.
"Colin has risked and suffered career backlash, racism, death threats and yet his message still continues," said Kim Garcia, a junior business major. "He has a message and was willing to risk his football career to be heard."
Fast forward to this past week, Nike released their new ad campaign featuring Kaepernick. The two major taglines are, "Believe in something, even if it means sacrificing everything" and "Don't ask if your dreams are crazy, ask if they are crazy enough." This ad was designed to motivate athletes to push to be greater than the sport they play.
Many have voiced the opinion that this ad was in poor taste; choosing an NFL star to head this campaign when veterans sacrifice so much more fighting for something they believe in. Those people also find what Kaepernick and other NFL players did disrespectful to the men and women who put their lives on the line defending the flag, with some Twitter users replacing Kaepernick with Pat Tillman, an ex-football player that died serving his country in Afghanistan, in the ad.
Those who hate the ad started cutting the Nike swoosh out of their clothing, burning their product and declaring a boycott. Since the ad has premiered during the Thursday night Eagles-Falcons game and the dust has settled, however, Nike's online sales have risen 31 percent according to NBC News. And even with a small decline in its stock price, Nike rebounded and has stayed in the green all week and actually came close to beating its 52-week high, according to Fox Business.
"It's more of a publicity stunt by Nike. You have a company that is engaged in sweatshop practices for literally years now. There is something to be more upset over," says Russo.
There is a case to be made here. In an article from The Atlantic, they went as far as to call it a "cynical branding exercise." Nike in March signed a new eight-year extension to supply all 32 NFL teams with jerseys and sideline gear when their current contract is up at the end of the 2020 season.
"It's was a business move," says Garcia. "They can't be mad at Nike: this is what you signed."
His foundation still continues to serve the community and fight oppression globally through education and social activism. In June of last year, Kaepernick finished his Million Dollar Pledge, in which he gave one million dollars of his own money to almost 40 charities. Athletes from many sports matched some of his donations and donated an additional $400,000.
He founded and fully funded the national Know Your Rights campaign, which teaches youth how to interact with law enforcement along with self-empowerment."Colin Kaepernick is doing something brave and it is disturbing people's comforts. People are aware of the situation of police brutality but are neutral and their actions have consequences," said Garcia.
About the Contributor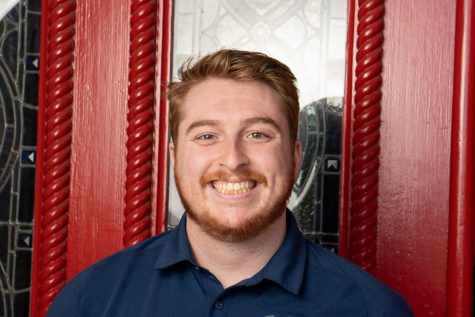 John Walker, Life and Arts Editor
MY name is John Walker, and I am one of the Life and Arts Section Editors. I'm a senior Communication major and journalism minor from Los Angeles, California....