'Shadow of the Tomb Raider' bid players a goodbye to Lara Croft
Hang on for a minute...we're trying to find some more stories you might like.
The long-awaited last installment of the Tomb Raider reboot has finally released to the public, and I can say without a doubt, it was worth the wait. Fans anticipated Lara Croft's return since the game's title, "Shadow of the Tomb Raider," leaked in 2016. Per Square Enix's official Twitter announcement made in 2017, the game officially revealed just three months before it's September release.
For this, I'm grateful. After seeing the gameplay trailer, I was one of many who couldn't wait to accompany Lara on her new journey– especially since it would be taking place in Latin America which is a stark contrast to the setting of the recent games.
Overall, there was a high level of care put into "Shadow of the Tomb Raider," whether it be in the game's graphics, sound design, gameplay or story.
The story follows Lara in her ongoing pursuit of trinity: a militant organization that seeks to control the world by using different mystical artifacts. Trinity was introduced in the second game, "Rise of the Tomb Raider," and since then, Lara has been on their tail doing her best to protect the world from their plans.
Lara is a wartorn character, someone with the weight of the world on her shoulders, and how she was written illustrated that beautifully. She's become much more than a college graduate with a long stroke of luck; this story has made her more complex.
Throughout the game, she frequently breaks down and laments her stress to her close friend, Jonah, who has been with Lara since the first game of the trilogy in 2013. She's more than a one dimensional character who does parkour and kills baddies left and right. She's a character who does all of those things while having complex emotions and being unafraid to show them. The direction Square Enix took with her this time around made the game more immersive for me as a player, and I've never felt closer to Lara before.
In terms of more surface level details, the graphics were stunning and put the player in this new world with Lara. The game opens in Cozumel on Dia de los Muertos with stunning altars covered in beautiful and vibrant colors that decorate the scene.  The warmth of the candles seeps through the screen and into your skin. The jungles of Peru come alive with the color and sounds used. The temples have their own unique design, and the costumes on each background character delve you deeper into the setting.
My only complaints about the game are that while the game takes place in Latin America, we unfortunately see almost all the people of color die in the game. Though they're nameless bystanders it's still upsetting to be in this new setting only to see the people there die. I understand it's what's bound to happen when the fate of the world is at stake, but we also don't need to see a young, Mexican boy fall to his death in the middle of a tsunami.
Despite this, Lara is actually held responsible for her actions that lead to these deaths, and she actually shows remorse. Usually in video games or film, the protagonist shows zero remorse for the lives lost in the wake of their adventures. At first, Lara tries to put this devastation out of her mind, but she's quickly checked by Jonah. This is another indicator that Lara's characterization was handled with a new level of care.
Overall, "Shadow of the Tomb Raider" delivered new and interesting gameplay, beautiful setting and graphics and a new Lara Croft that players can feel closer to. I definitely shed some tears over this game. It's hard to say goodbye to Lara Croft, but I couldn't think of a better way to bid farewell than with "Shadow of the Tomb Raider."
About the Writer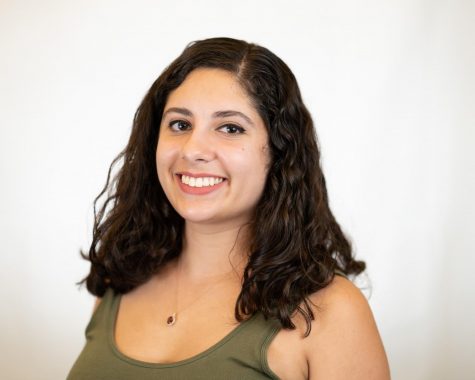 Lauren Sanchez, Viewpoints Section Editor
I am Lauren Sanchez — a Communication major with a focus in Journalism at St. Edward's University. I'm currently the Viewpoints Section Editor for Hilltop...