'Middletown' Preview: Munday Library pop-up show builds anticipation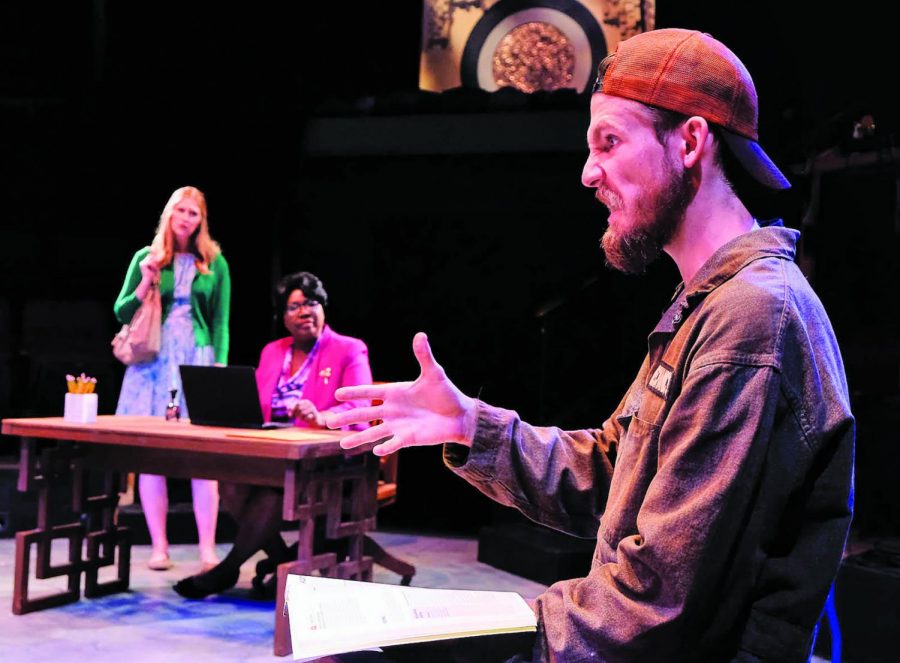 Samrah Khan, Writer
September 24, 2018
This year, Mary Moody Northen Theatre will celebrate its 46th anniversary season. Since its opening in 1972, MMNT has produced plays featuring St. Edward's students, part of the university's theatre training program, operating on a professional model that lets students gain hands-on experience and mentorship. MMNT's "Middletown" is the first of four productions for the 2018-19 season.
"Middletown" is a play by Will Eno, directed by Robert Tolaro. It will run from September 27 through October 7. Performances will run Thursday through Saturday at 7:30 p.m. and Sundays at 2 p.m.
Winner of the 2010 Horton Foote Award for Most Promising New Play, "Middletown" is about humanity and appreciating the absurdity of life. The play takes the audience on a journey from City Hall, to the local library, to the depths of outer space.
On Friday, Sept. 21, some of the cast from the production acted a scene in a pop-up theatre at Munday Library. The scene fit the setting like a glove as the point of discussion is set at a library.
Following the announcement of the pop-up theatre, cast members throughout the library emerged from the shadows to begin acting in front of the help desk. There was a librarian sitting at the help desk, a woman wearing a green dress, a man in deep thought sitting on a couch nearby and a mysterious man wearing a red hat on his way out.
The pop-up theatre took off as the woman in green walked up to the help desk and, with an echoing voice, asked the receptionist for information on getting a library card. The receptionist replied with a voice on the same scale. The scene had officially started.
The characters proceeded to discuss who they were and what they were doing.
The scene took place in Middletown, "a town built on the ruins of towns of old." The woman in green, Mary Swanson, is new to town. She has come to the Middletown library looking for books on child care and family planning. She is accompanied by her husband, the man nearby, while she holds a conversation with the receptionist.
Over the next few minutes, the characters discuss the city of Middletown and Mary's hopes to have a child, followed by a few facetious remarks by her husband.
Soon comes in the man in the red hat. The woman in green politely picks up a conversation with the mysterious man. The scene ends with the man giving her his contact information, and the stage is set for a tale that left the audience with questions on where the characters will go next.