How freshman's tattoo symbolizes family, spirituality, new beginnings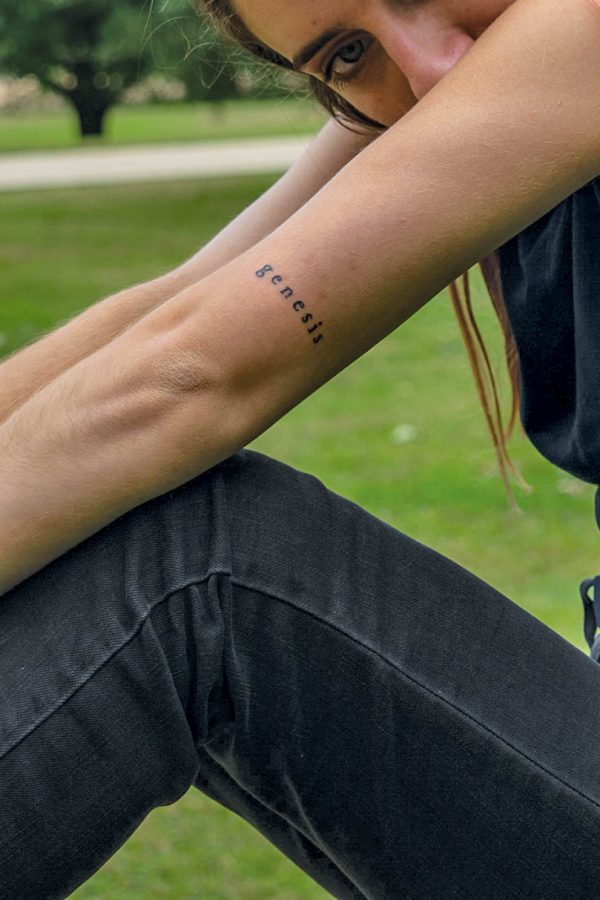 Freshman Isabella Chiocca carries vibrancy in every step– whether it's with her bright pink hair or inventive fashion sense. The Dallas native combines bold colors, bright patterns and a touch of edge with her looks. However, a minuscule detail adorning the back of her arm has a depth outside of the expected. Her tattoo, the word "genesis," has ties to her father, her spirituality and the universe.
"Genesis is the name of my dad's favorite band," Chiocca said. "I'm a huge daddy's girl. I get all my personality and physical features from my dad".
The tattoo, written in the font of the band, not only has family ties but goes beyond the typical connotation of the word itself. In contrast to the biblical week of creation, this tattoo was a spur of the moment decision.
"I was on Sixth Street at like 3 a.m. with my friends, and as we were walking around, we were like 'let's get tattoos,'" Chiocca said. "And I actually had been wanting to get this one so I was like 'of course.'"
Though getting the tattoo was spontaneous, the origin of the word has deep spiritual connotations. This duality between the earthly and the spiritual is an integral element for Chiocca and her connection to religions that make her tattoo important. She loves to study the elements that bring seemingly different religions together.
"The tattoo is also super meaningful to me because it is in so many different teachings. I love finding out correlations between different religions," Chiocca said. "Genesis is one of the most significant repetitive phrases in all different teachings."
Chiocca got the tattoo within her first few weeks of attending St. Edward's– an uncanny coincidence considering its meaning. Moving to a new city, starting classes and making new friends is a genesis of its own. Among all these changes, Chiocca is grounded within what matters to her most.
Creation, especially in the realm of spirituality, has relevance to Chiocca.
"Like in the Bible and other teachings, genesis is depicted as the creation," Chiocca said. "I have another tattoo of an ankh, an ancient Egyptian hieroglyph that means spirituality and eternal life, and genesis is the creation of life, so my tattoos tie together."
A small tattoo in a delicate font manages to connect the realm of spirituality to rock and roll. With every tattoo she gets, Chiocca combines her living self with the powers and spirits beyond the physical. Born in spontaneity, the word decorating the back of her arm is a true genesis, representing not just a new beginning, but a new experience.