Red Sox dominate World Series, Dodgers lose consecutive championships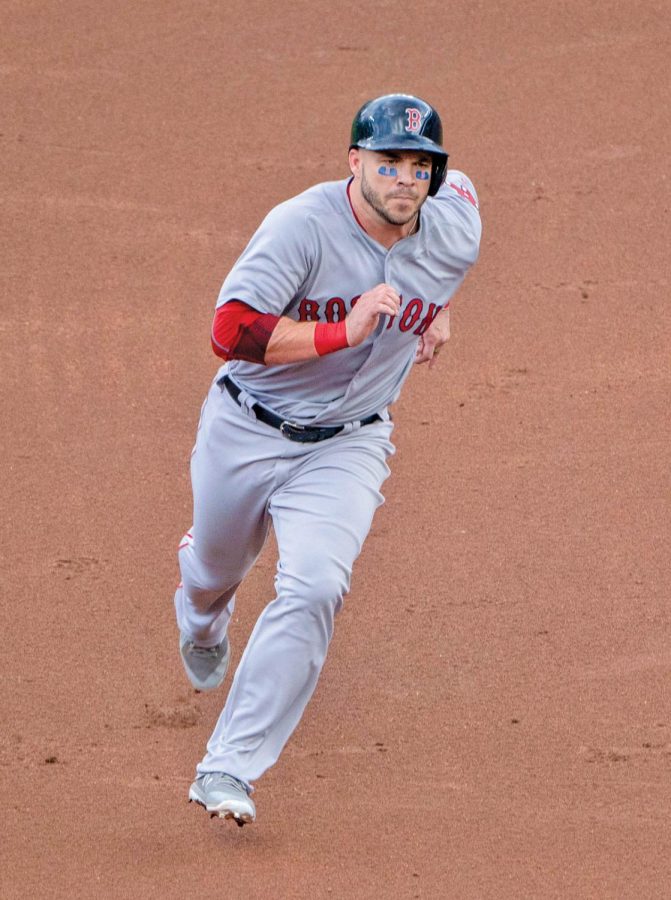 Justin Gongora, Sports Writer
October 29, 2018
The Boston Red Sox have been crowned the 2018 World Series Champions, as they drowned the Los Angeles Dodgers in a dominating five-game series.
Their combination of sheer power from the lineup and shutdown pitching was no match for the Dodgers, as starting pitcher Chris Sale was nearly unhittable in his starts and in his relief appearances.
Manager Alex Cora implemented the "starting pitcher in the bullpen", something that the Milwaukee Brewers relied on for much of their postseason run, and would eventually be a tactic that threw off Dodger bats.
Steve Pearce, who participated in only the second postseason of his 12-year career, took home the World Series Most Valuable Player award for the clutch hits he delivered throughout the series, including a pair of home runs in Game 5.
David Price, another unlikely hero, who before this postseason lost in nine postseason starts, emerged as one of the best players on the field.  Price delivered three consecutive stellar starts in the clinching game of the American League Championship Series, Game 2 of the World Series and Sunday night's Game 5 series-clincher.
Steve Pearce, who participated in only the second postseason of his 12-year career, took home the Most Valuable Player award. All told, Pearce hit .333, slugged 1.167 and scored five runs in this series with two home run blasts. AL MVP candidate Mookie Betts also contributed with solo home run in the final game of the series.
While the Sox were reigned supreme, the Dodgers were forced to watch them celebrate on their home turf. The Red Sox are familiar with the stinging feeling of losing on the biggest stage, as they also came up short last year to the Houston Astros in a hard-fought seven-game series.
Dodgers pitcher Clayton Kershaw will not only have to contemplate this loss, but his baseball career as well. Kershaw has merely three days to decide if he will further his career with the club or test the waters of free agency. Certainly, the back-to-back losses will play a factor in Kershaw's decision and when it is announced, it will be a blockbuster.
Manny Machado, one of the Dodger's largest pickups off of free agency, had a quite controversial postseason. On multiple occasions, Machado was seen spiking pitchers and first baseman's on the base path, not to mention his aggressive slides into second base.
This wouldn't be Machado's first run-in with controversy leading to calling him one of the dirtiest players in the game. Word around the league is that the Dodgers will allow Machado to enter free agency, with the Yankees being the most likely team to sign him.
The Dodgers had a less than favorable World Series– two to be correct– and while the Red Sox were more dominant, there were instances which led the Dodgers to their demise. In the long run, Kershaw simply did not deliver and Boston prevailed.