Former President George H. W. Bush dies at 94 after life of public service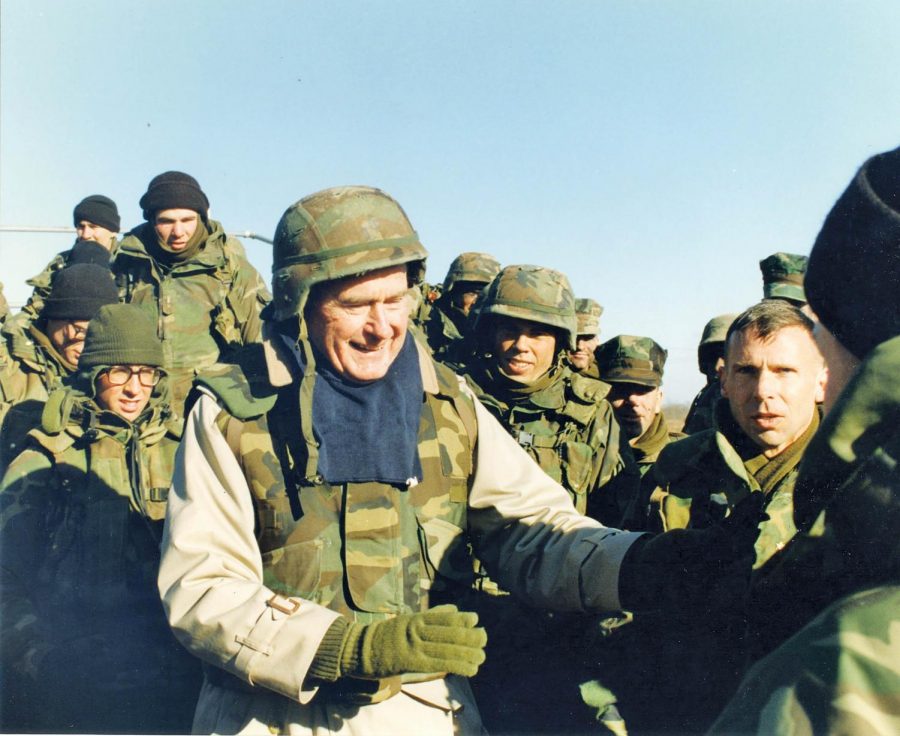 Adrian Gonzales, Sports Editor
December 4, 2018
George Herbert Walker Bush, 41st president of the United States, died Nov. 30 at the age of 94.
Diagnosed with a severe form of Parkinson's disease, Bush's health was steadily declining – eventually limiting his mobility and forcing him to use a wheelchair. His wife, Barbara, died earlier this year in April.
Prior to his presidency, Bush was involved with the U.S. military. He was enlisted in the U.S. Navy in 1941 during World War II.
During his years in the military, Bush participated in 58 combat missions during which he earned outstanding accomplishments for his respected efforts such as the Distinguished Flying Cross, the Presidential Unit Citation and three Air Medals.
Bush will be most remembered for his political contributions to the U.S. and his time as president. From 1981 to 1989, Bush served as vice president to Ronald Reagan where he was able to aid Reagan and gain presidential experience to accompany his already vast political knowledge.
"I do not mistrust the future; I do not fear what is ahead," Bush said during his time in the presidency. "For our problems are large, but our heart is larger,"
Heading into office after Reagan's presidency as the new Commander in Chief, Bush took charge at a pivotal moment in our nation's history, as the fall of the Berlin Wall and the breakdown of the Soviet Union were all beginning to happen.
Some of his most recognized accomplishments impacted the way many Americans lived their lives.
In 1989, Bush presented the Educational Excellence Act to Congress in hopes of improving the overall quality of the American education system.
After his first year as president in 1990, Bush initiated the Disabilities Act, which made for many accommodations to handicapped people by making facilities and establishments much more accessible to their needs.
Bush was also the father of six children, including George W. Bush, who would go on to be the 43rd US president and serve two terms in the process, and John Ellis "Jeb" Bush who served as the 43rd Governor of Florida and made a presidential campaign in 2016.
Bush's move to his final resting place is set to take place in December at the George Bush Presidential Library and Museum located on the Texas A&M University campus in College Station. The library was built in 1997 as a dedication to Bush's life and his commitment to democracy and education.
On his final reported conversation, Bush was on the phone with George during his final moments. According to George, Bush's final words were a response to George telling him that he had been a "wonderful father" to which the elder Bush responded with, "I love you, too."