It's On Us encourages students to comment on proposed Title IX changes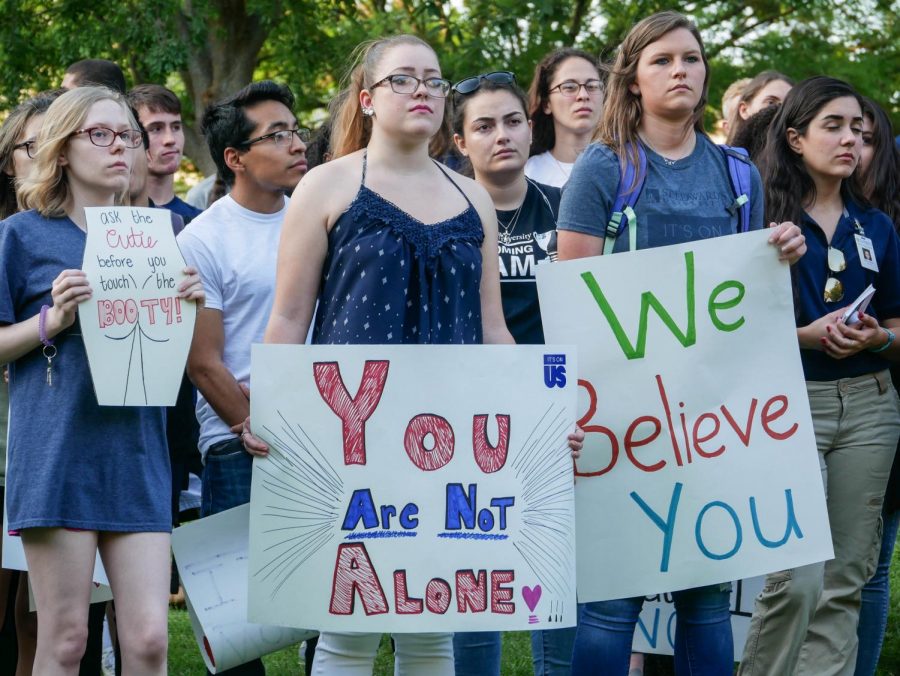 Rebeccah Hoffmann, Staff Writer
January 30, 2019
It's On Us held their first chapter meeting of the semester on Thursday Jan. 23rd , focusing on the Department of Education's proposed changes to the Title IX legislation.
The organization was joined by two speakers from the Texas Association Against Sexual Assault, Katherine Strandberg and Rebecca Bernhardt, who spoke about the changes and what they mean for students.
"My top concern in these changes are the geographic location changes" Strandberg said.
The proposed changes would make it so sexual harassment and abuse occurring off campus, such as bars, off campus housing, abroad, and any online harassment will not be covered by the university.
"This would mean that students being harassed by other students through text messages or forms of social media would not be able to get any help from the university," Bernhardt explained during the meeting.
The proposed changes would also take away the government's authority under Title IX to fine universities, meaning not only can universities not be fined if they decide against becoming involved in cases that do not follow these new guidelines, but also when they are doing too little when it comes to a sexual harassment or assault case.
Stranberg also explained the proposed cross-examination changes, which would require survivors in undergraduate and graduate school to submit to live cross examination of the accused's advisor.
"There are two main things I find concerning here," Strandberg explained. "How the accused could have someone such as their mom hold the examination, and how wealthier students could actually hire a defense lawyer to hold the examination, which is problematic since this would be bringing legal power in to a situation where, unfortunately, a lot of legal power is not involved."
Both Strandberg and Bernhardt explained these changes along with a handful of others to attendees of the meeting, and explained how well thought out comments must be looked at and responded to by the Assistant Secretary for Civil Rights. Strandberg and Bernhardt, along with It's On Us, urged anyone concerned with these changes to reach out by writing a comment. The National Women's Law Center has created a document to help as a guideline for writing comments. The document also explains more of the proposed changes. The document can be found by using this link:https://bit.ly/2RPuicE. Those wanting to write a comment can also use the link https://bit.ly/2GSrwye, which will take you directly to the comment submission page, instead of submitting one through the NWLC. Comments are due by Wednesday, January 30, 2019 at 11:59PM.
"Our main focus right now is to inform students on the proposed Title IX changes," It's On Us president, Junior, Sophia Espinosa Stated. "We will also be holding chapter meetings us usual throughout the semester, and will be having our main spring event Take Back The Night."
Take Back The Night will be held later this spring, and It's On Us has their next scheduled chapter meeting for Feb. 21 in JBWS 163.