Dallas Mavericks make blockbuster trade for Kristaps Porzingis before deadline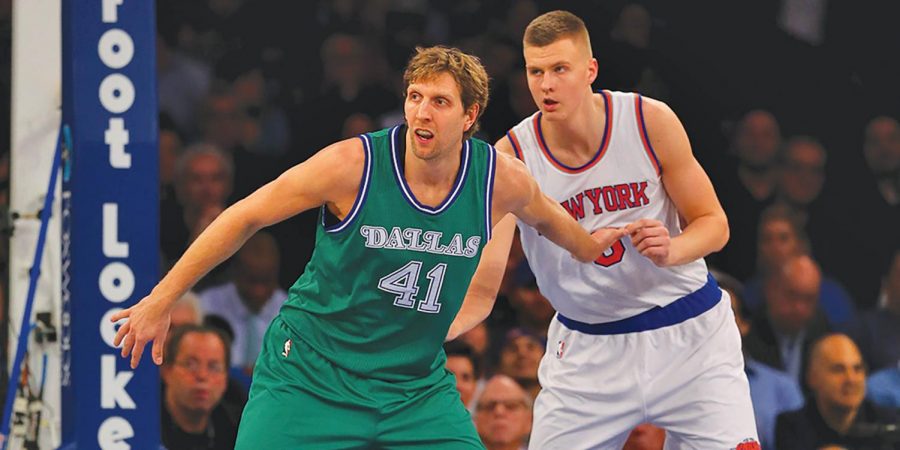 Frank Bilancio, Sports Writer
February 4, 2019
It didn't take long for the Dallas Mavericks and the New York Knicks to turn the basketball world completely upside down, as the Knicks traded star, 7'3", power forward, Kristaps Porzingis to the Dallas Mavericks on July 31st. Knicks fans were not impressed with the original return, as they got Dennis Smith Jr., who they could have drafted  in the 2017 draft.
On New York's side of the trade, the Knicks made enough cap space to sign two max contract players and positioned themselves with a minimum of top three picks in the NBA draft this off season.
The complete trade has Kristaps Porzingis, Tim Hardaway Jr., Trey Burke and Courtney Lee going to the Mavericks. The Knicks get a mixture of players with Dennis Smith Jr., DeAndre Jordan, Wesley Matthews and two first-round draft picks.
This trade comes at more of a shock than a forgone conclusion for the Mavericks. Landing a talent such as Porzingis is a move that might make Dallas a contender in the Western Conference. Expect a lot of mentorship from Dirk Nowitzki, who changed the game of basketball as the original stretch power forward when he came over from Germany in 1999.
Porzingis hasn't stepped foot on the court this year, and he has been on the shelf since last February due to a torn ACL. However, "the Unicorn", as he's often referred to for his unique playing ability, has shown superstar potential with  career averages of 17.8 ppg, 7.1reb and 36 percent 3-point shooting.
Porzingis is only 23-year-old and was ascending to a top 15 player in the NBA prior to his leg injury. The former fourth-overall pick will team up with rising star rookie Luka Dončić in Dallas. The Mavericks roster actually looks promising on paper.
With a team average age of 27.5 years old and two franchise-caliber players under the age of 23, owner, Mark Cuban, has essentially accelerated the Maverick rebuild with this trade.
The Knicks sit at the bottom of the Eastern Conference with a league-worst 10-42. With potentially the first overall pick in this year's draft, the team certainly has their eyes set on the turning it into Duke freshman phenom Zion Williamson — the Knicks have positioned themselves quite nicely for the offseason.
As far as free agents, the biggest name that the Knicks are keying in is All-Star forward Kevin Durant. If the Knicks can lore Durant to the Big Apple, the Knicks will realistically be able to sign other big-name free-agents such as: Kawhi Leonard, Kyrie Irving, Jimmy Butler, Klay Thompson and DeMarcus Cousins.
For the time being it seems that the Mavericks have won the trade, but only time will tell who wins in the long run, and that starts for the Knicks this summer in free agency.