SEU student uses body as canvas for detailed, animal themed tattoos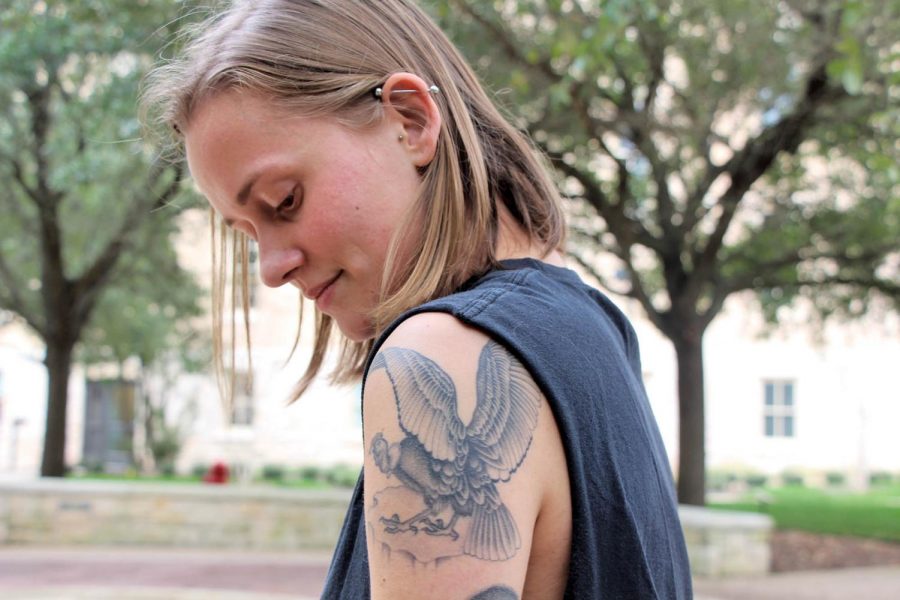 Christine Sanchez, Staff Writer
February 25, 2019
Ashley McGrain is a junior photography major at St. Edward's. As a collector of taxidermy, she has a love for animals and creepy things. Her tattoo journey began when she was just 15 years old.
"It was really sketchy and it was on someone's coffee table. It looked horrible," McGrain said.
McGrain hid the tattoo from her parents for a while. When she finally showed it to her dad, he quickly decided they needed to go get it fixed.
"My dad is covered in tattoos, like from head to toe…buttcheek tattoos, all of it," McGrain said.
McGrain has a close relationship with her dad, who shares her love of tattoos.
"I have a piece on my ribs. It's an old ayahuasca ceremony," McGrain said. "My dad has it on his leg. I got it for him because we're really close."
Since then, McGrain has had much better experiences with tattoos. She sticks to one tattoo artist, Carlos Truan, who now works at Perfection here in Austin. Carlos is McGrain's go-to artist and has done all of her arm tattoos.
"He's the most amazing human in the world," McGrain said.
Two central themes of McGrain's tattoos are animals and "anything weird," as she describes it. Her most recent tattoo is based on a story from "Scary Stories to Tell in The Dark."
"I've always been drawn to really creepy stuff. I collect taxidermy and I love skulls," she said.
When it came to choosing a creepy tattoo, the series instantly came to mind.
"I was like, 'What is creepier than Scary Stories to Tell in The Dark? Nothing,'" she added.
McGrain's tattoo is based on a story called 'Baseball in Heaven,' where two baseball players wonder if they'll be able to play the game in heaven. One brother then dies and comes back as a ghost. When the other brother asks him if there's baseball in heaven, he says there is, but that he is scheduled to pitch tomorrow.
Right now, McGrain is working on finishing her animal-themed arm so that she can start filling in the comparably blank canvas of her "creepy" arm.
"I've always loved animals since I was a kid and I've been blessed to be able to travel a lot with my family," she said. "Every time we travel, I always ask to incorporate animals in our trip."
McGrain's animal tattoos are all inspired by trips she's taken to different countries. Her humpback whale tattoo is from when she went swimming with humpback whales in Bora Bora, her great white shark tattoo is from going cage-diving in South Africa, her camel tattoo is from riding camels in the Indian desert, her tortoise tattoo is based on Lonesome George, a turtle in the Galapagos that lived to be 100. Her two gorilla tattoos (one on the side of her head and the other on her arm) are from when she "hiked up in the mountains in Rwanda and got to spend an hour with some gorillas," and her condor is from travelling to Peru with her family.
McGrain plans to get a cobra next in the empty space between all of her other animal tattoos.